7/29 Fantabulous Girlfriends Swap Results…. Oh my!
7/29 Fantabulous Girlfriends Swap Results…. Oh my!

This is PART ONE of this two part swap, the brain child of our hostess Alisha Trussell.
Part 1 –

Create a card with Random Stamping, Make It Tight, Have Fun
Part 1a

– Create 8 each 5×7 pieces of the same Random Stamped paper that you used on your card and send in with your cards.
Part 2 Co-Create- (

In development in each artist's studio

) We will each receive 1 piece of everyone's Random Stamped 5×7 paper. We need to create 1 card with the original artist's RS paper and then send it back to Alisha. This is a FABULOUSLY fun swap! I can't wait to see what everyone does with my personal "designer" paper and can't wait to play with theirs! We have a month to complete Part 2 & I will post those results sometime in Sept.
———————————————————————————————
Our swaps are in everyone's hands now and so I can officially post the cards I received. (I already posted my card previously.) I am overwhelmed by the talent of these girls. Their artwork is FABULOUSO!
All cards are made with CTMH products. Please DO NOT COPY these ladies' artwork for ANY sort of publication or contest purposes.
Let's keep art sharing fair. Click on each photo for a larger view.
Alisha Trussell – our fearless leader.. she has to be fearless because she's dealing with 7 crazy ladies and 4 little monkeys at home! Can you believe her card??? She SEWED it with gold thread over the random stamping and then hand pieced the gold thread around her stamped flower on the sentiment piece. The sentiment is stamped over the top of a layer of cardstock, then mulberry paper which is stamped with the flower, then covered with a double sided adhesive sheet, then the flower &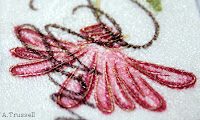 stem is lined with gold thread (had to have taken HOURS) and then covered in UTEE and heated and melted. She stamped Thank You with Staz On. WOW!

Barbara Lamunion – WOW! WOW! WOW! (
You're gonna read a LOT of WOWs in this post!) This RS paper is something else! She used LOTS of various stamp sets in her RSing. This is a FABULOUS card and I wish I had GOBS of her RS paper to play with. I think it would make the most fabulous B&T patterned paper!! Her flower is something else, too! It looks like leather! I just want to run my fingers over it and feel the texture!
Terri Howard – TERRI! Sneak in a little bling… I love the GINORMOUS (yes that's a real word..) Grommet from Making Memories with a little spring bling popping out from CTMH. I love the ribbon tied across the card, drawing your
eyes to the bling. AND the random stamping is something else! It looks like color emerging, but it's not… It's kind of a cool tye dyed effect RS. LOVE IT!
Brenda Harmless –
OOOOH la la!!! I have got to "get me one of them Cuttlebug thingies"! She embossed the dark green paper (NE Ivy?) and then reversed the paper when she adhered it to the page so the bubbles point DOWN rather than up… soooo cool. I love how she made the sentiment look just like a fishing bobber… and the tails on the fish are hand cut with a craft knife and popped out with a little pop dot – 3-d tails, watch out!

Tiffany Cheney – OOOOOH WOW! This picture does not do the RS on this card any sort of justice at all!
You can't really see the very background stamp on the large square RS piece. It's a word stamp (Romantic Backgrounds?) done in , I think, Bamboo ink. Very subtle, but very elegant! She added just a touch of my fav embellishment, Liquid Glass, to the blue focal point flower.

Susan Hankins – This card is sooo fun and sassy! (Kinda like the artist!!! *grin*)
This is a very cool color combo, too! I love the little boingy centers of the buttons (CTMH craft wire) and the clip that she created from cardstock. Love the little ribbon tucked neatly behind the flower!
Pam Klassen – Our resident Canadian… WHOA… WOW… WOW…. What is that lovely sparkley glob of glittery bling in the center of the rose, you ask??? It's a variety glass beads piled onto what looks like a big old lovely lump of Liquid Glass. These photos do not really show the sparkly effect well at all. I love Pam's RS It's done over textured cardstock and looks like watercolor painting. Pam finished off the edges of her papers with her trademark paper rolling technique. I LOVE how it works with the rose and leaves!