Bird on a Wire
Bird on a Wire
Several weeks ago I share this sneak peek of the project I taught at Creative University in February.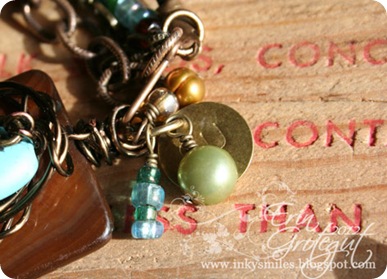 Here's another peek/close up:
 
And here is the whole bracelet. I went with the whole "woodland" theme this year.  (Our charm swap was "Woodland Fairies".) The focal point is a bird on a giant turquoise egg in a wire wrapped nest. 
 
It was CRAZY prep work for this class… hundreds of beads & findings to sort and count, wire & chain to measure & cut and package up all neatly.  Thankfully I had the help of my wonderful husband to help sort and count beads.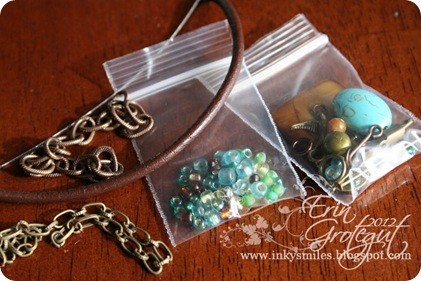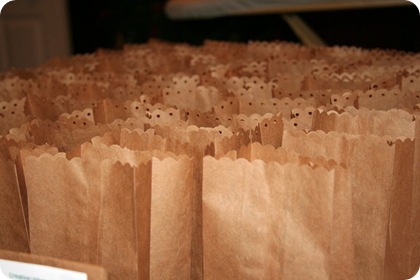 I had so much fun teaching this to my CU girls.  I had nearly 60 students, most of which were beginners.  I did step by step teaching and we worked our way through several different jewelry technique/skills (Wire wrapping, wire wrapped loops, bead stringing, crimping, metal stamping, etc) as we built this fun bracelet.  Everyone finished their bracelets in class and it was awesome seeing them on everyone's wrists. 🙂  We even had door prizes!  Four lucky winners per class won a velour beading mat and jump ring opener. 🙂
 
Here are some fun pics that Amy Kupperman snapped during class. (I was teaching and couldn't really snap photos, so I had to hijack these from Amy's fb album).
 
And some more photos hijacked from Linda Schwartzenburg's fb album:
And some photos hijacked from Linda Wendeborn:
 
I had the most FABULOUS charm fairy teacher helpers, too.  They took the time to help each student/table on an individual basis as we went.  I could not have done it without them. Kim was one of my helpers.  Here she is with Joy from Everyday Cricut. (photo courtesy of Linda Schwartzenburg)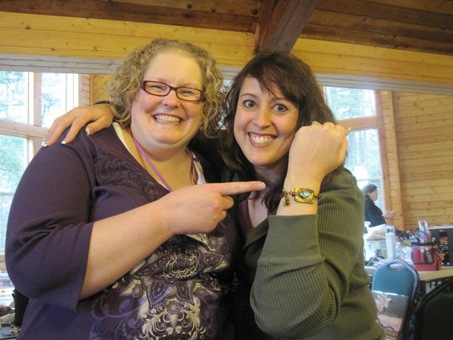 Here's a pic of all the teachers from CU this year.  Left to Right" Michelle Johns (Altered Art), Sheila Bennett (Card Cafe), Tresa Black (Hostess), Michelle Nist (Scrapbooking) and me, Erin Grotegut (Jewelry).
Jazz Hands!
 
Inky Smiles!