Buried In Bind It All Products
Buried In Bind It All Products

I am swamped in Bind It All Products from Zutter Innovative… YIKES!!!! (This little machine is the coolest thing!!! Look how tiny it is!!)
I got my second shipment of product for the big sale I 've been holding… We are completely sold out of chipboard covers already (and so is the manufacturer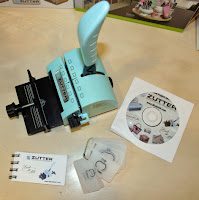 until 2nd week in Oct)…. They are also out of 3/8″ black wires until who knows when… So I'm trying to figure out substitutions for the assortments I put together. I'm frantically answering emails, filling orders and planning on another big order. This is CRAZY (yet so fun)!!!

This is the cool little bag that you can stash your new little friend and assorted goodies in….
Stay tuned for more artwork….