Crocheted Jewelry
Crocheted Jewelry
In my efforts to get back into crafting again (now that I am feeling better and HUMAN) I have decided to take a few classes here and there as I find interesting ones at the local craft stores.
Last night I went to Roberts craft for a fun jewelry class. We learned to make necklaces by crocheting wire and interweaving beads. It was so much fun! And… it was relatively easy. If you can crochet a single stitch chain from here to eternity you can crochet a necklace. 🙂
My husband's aunt and cousin were there with me and it was loads of fun seeing how different everyone's necklaces turned out. Tammy (aunt) did a necklace for one of her coworkers using a mix of smokey beads. It turned out gorgeous and I picked up the bead collection this evening to make one for someone for Christmas. Raette used a variety of "sea themed" beads and made a really fun big and chunky necklace. She works at a place called "Pirate Island" so it is perfect for her!
I chose a variety of shades and shapes of blue beads, silver findings, Swarovski crystals and silver 26 gauge wire. I don't like how the 26 guage wire was a little difficult to work with, but loved the 26 gauge sterling silver wire that Tammy used, so I picked some of that up tonight, too.
Here's my necklace: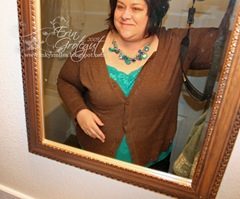 I am down in my guest bathroom trying to snap a photo of the necklace while it's on my neck. Not an easy task. Brent is still at work (it's 7:30pm) and not around to help… and I'm too lazy to find my tripod. (Please ignore the fact that I have no eyes on… I think I rubbed them off during my INSANE day today at work. LOL!)
Zoomed in on a better mirror picture. That one bead on the right is a pain in the bootay. I had to twist the wire to get it to lay back properly after this photo.
The full necklace. I extended the chain so that it would fit better on my and lay where I wanted it to lay on my neck.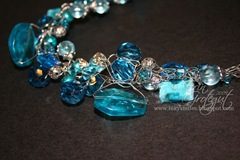 A close up of the bead and wire work.
This morning before I went to work I made a quick little ring to go with the necklace. I need to redo it because I twisted a couple of the end wires too much and they snapped at work and kept stabbing me in the finger while I typed. OUCH!
The basic idea of the necklace is making 3 strands of beaded, crocheted wire and then braiding them together.
If you can
* braid hair
* crochet a single chain from here to eternity
* choose 45-50 misc beads (I worked in extra beads)
You can create one of these! SO get to it!
Last night I Googled "crocheted necklaces" and found a GREAT video showing exactly how to make these. So, rather than re-do a whole tutorial, here's a video courtesy of Auntie's Beads for you:
Inky Smiles!
PS… and I met someone SUPER COOL at the Robert's store during my class…