IMPORTANT: Please read
IMPORTANT: Please read
UPDATED: It appears that the previous post has been restored but no comments.  ARGH!  Let's hang in there and see if the comments come back. If they don't by the end of the day I will start the giveaway over.  There were so many comments that were lost and I am beyond frustrated.
Dear friends,
Blogger has been DOWN for the past couple of days. I am sure many of you who are bloggers and who read blogs have noticed this.  Because of this issue with Blogger my last post has disappeared along with all the comments.  I am so frustrated with this.  
I am going to wait a couple of days for Blogger to try to restore my post and the associated comments.   Hopefully they will get their acts together and figure out what went wrong and make the necessary repairs.
If Blogger does not restore the prev post and associated comments I will repost it and we will try to find some winners again.
If I could, this would be the face I'd make at them.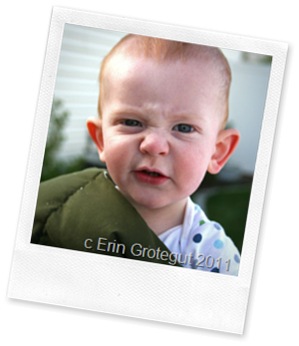 I am so sorry for this inconvenience.
Love,
E.
(PS. This is "J", my friend's one year old – photo taken while trying to take his 1 yr photos.)