Sketch Challenge {008}
Sketch Challenge {008}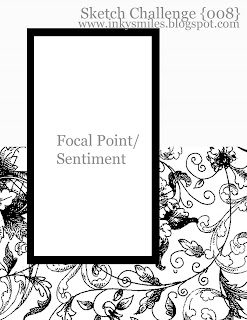 I'm in the middle of a huge project for church… we're having our quarterly Enrichment night and I've planned a super fun Spiritual Spa Spectacular. We'll have 5 – 10 minute mini classes, a Keynote Speaker and some yummmmmmy goodies. It's going to be a BLAST!
Tonight I am working on thank you notes for our class presenters/speakers and used this simple sketch to plan the card. I'm pretty much sticking to the basic sketch, but it's turning out soooo darling!
Here's your challenge for this week. Use this very simple sketch and make something lovely! Use something shiny, add some texture and some froofroo and have a little fun! Bling out a simple sketch with the fine details.
I will post my card as soon as it's dry (or tomorrow) 🙂 Feel free to leave a link in the comments to your gallery or card! I'd love to see what you come up with!
Inky Smiles!