Skipping Stones Design Sketch Tuesday: SSD017
Skipping Stones Design Sketch Tuesday: SSD017
I've been procrastinating making this card all day long. I also had to postpone the next reveal of Scrap My Scraps. It's been a rather unproductive day, although I did sit at my computer and stare at YouTube while crocheting a cute little mini cupcake (which I will share later when I get it stuffed and stitch the top on) and then went and took photos of a friend for her daughter's "portfolio" for a job with a local bridal shop that sells modest prom gowns, wedding gowns, and other formals which was loads of cheerful fun!
Here's today's sketch from Sgt Stamper:
Pretty straightforward and leaves LOTS of room for imagination (which fled my brain tonight, lol!) I followed the rules and whipped up this card pretty "quickly". Well… a couple of hours because the triangles threw me for a loop. I was not sure what to do with them. LOL! Had I oriented the card differently I might have used some flourishes or something… but they didn't work with my card, so I left the triangles.
I chose to use two stamp sets for this card. I used my all time favorite SSD stamp sets – Dandelion Dreams and Healing Wings. My friend, David Hogge, passed away on Sunday morning while on a visit to inlaws for a baby shower (not sure on reasons… just yet something with pneumonia & something else) and I wanted to make a card for his wife, Jineena. Dave left behind his wife and 3 small children under age 7.
Here's the card I came up with for this sketch: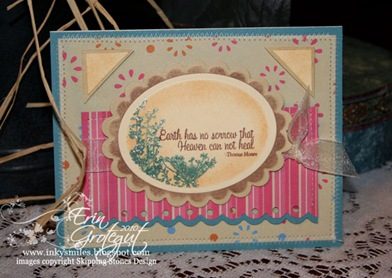 I love this card but I am not happy with how this card photographed. That's what I get for taking photos (literally) at midnight and not setting up my photo studio box thingy. The blues match in real life and the background paper is tan, not greenish. (No amount of Photoshopping helped it.)
The card needed some "appropriate bling" so I colored the floral images with a Sakura clear stardust pen.
I did have a lot of fun using my Nesties as stencils and pouncing some color onto the cut out shapes inside the frame edges. I also stamped the floral images while the Nesties were still in place as stencils. This is my all time favorite sympathy sentiment. I truly believe that it is true. Heaven can heal any earthly sorrow that we experience.
Most of the layers are popped out with foam tape and tabs. I have this "thing" about dimension lately and love popping things out. I love the shadows that are cast on the backgrounds and the added depth.
Don't forget to check out the rest of the cards from our fabulous DT! (See right sidebar)
~Inky Smiles
Supply List:
Stamps: Skipping Stones Design's Healing Wings and Dandelion Dreams
Ink: CTMH Twilight, Chocolate & Creme Brulee (yum)
Papers: CTMH Best Friends Forever Kit
Miscellaneous: CTMH Ribbon, American Crafts Foam Tabs, Scotch Foam Tape, Fiskars scalloped border punch, Fiskars small hole punch.