Skipping Stones Design Sketch Tuesday: SSD029 A Room With a View
Skipping Stones Design Sketch Tuesday: SSD029 A Room With a View
Happy Tuesday!  Back today with another sketch and a card from Skipping Stones Design.   Sometimes your mojo goes on a little vacation and leaves you behind scratching your head.  For me lately it seems to be happening more often than not, lol!  This sketch really threw me for a loop.  I wasn't quite sure where to go with it, so I showed it to Brent.  He said "it looks like you're looking out a window at a sunset or you're looking down on a lady with a big bonnet on in her garden… see… those lines are rows of something…"  Hehehe… I love my Brent!
Here's today's sketch from Teri Anderson:
I decided to run with Brent's idea that you are looking out a window at a sunset so I put on my thinking cap and pulled out some stamps and paper…
Here's what I came up with:
It's difficult to see but there is a sheet of acetate under the "wood" parts of the window to make it actually look more like a window…. I'll turn my flash off and take it from a slightly different angle so you can see…..See?

I brayered a couple of different blue inks onto a piece of Heavenly Blue cardstock from CTMH to add some texture and dimension to the evening sky, then I cut a circle with a Nestie out of a generic pale yellow cardstock and brayered some inks over it as well.  I think I used 3 different yellows and 1 orange.  The wood pieces are made by dragging layers of ink over a light brown generic cardstock.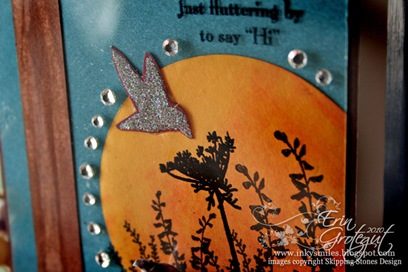 The large flower is heat embossed with black embossing powder and the other flowers are simply stamped in black ink directly on the yellow sun.  The hummingbird is stamped onto cardstock, glittered, and popped up a little and the sentiment is stamped on the acetate sheet with black StazOn ink. Did you know if you smudge while stamping on slippery acetate you can quickly wipe off the StazOn with a paper towel moistened with StazOn remover?  Yes, that sentiment is stamp #3, lol!  I also popped some rhinestones on top of the acetate around the sun.   Love me some shiny rhinestones!
Inky Smiles!
Supplies:
Stamps – Skipping Stone Designs' Dandelion Dreams (my fav set!)
Inks – CTMH Honey, Sunny Yellow, Sunflower, Orange, Twilight, Heavenly Blue, Chocolate, Black and White Daisy; StazOn Jet Black & Timber Brown (for brads); Versamark
Cardstock – CTMH & generic
Miscellaneous – Kaisercraft Rhinestones, Doodlebug white glitter, Sakura Glue Pen, CTMH black embossing powder, pewter brads, acetate sheet.