Skipping Stones Design SSD05 – Earth Has No Sorrow
Skipping Stones Design SSD05 – Earth Has No Sorrow
I'm sorry that I'm posting this a bit late.  I like to have my posts scheduled to go at least the day prior to when they're due.  I've been sick with a nasty bug since last Wednesday.  I finally found my voice again and now my stomach is having issues.  ARGH. LOL!  What craziness, eh?  So I did find some time to play over the Christmas holiday and played with some more of my Skipping Stones Design stamps.  Heather sent me a set to be used for a tutorial, which I will post here soon, and I liked the little birdie stamp from it.  It coordinated nicely with my Basic Grey Urban Prairie paper.
Kim Teasdale has been keeping us on our toes with her fabulous sketches this month and sadly this is our last sketch from her.  This was a fun sketch for me.  Again, it took me out of my box and made me do something a little different, incorporating both vertical AND horizontal lines on the same art piece. 
For the sentiment I used Healing Wings.  I LOVE, LOVE, LOVE this set and can see loads of projects to make with it.
Here's SSD05:
And me, with my crazy train brain, rotated it just a bit…. like this:
And then something happened and my scissors went crazy and lopped off the ends of the horizontal pieces… and THEN the earth shook cuz I was breaking the rules again and the stars fell from the skies and landed a little closer to the oval and I ended up with this….

It's overcast and dreary and snowing today and we have really lousy lighting, so I snapped the best pics that I could… please forgive the cruddy lighting.
I promise, in real life the scalloped oval does not blend in with the darker vertical strip. Argh!
I had LOADS of fun with this card.  I ran the yellow background paper thru my Cuttlebug machine and embossed it for texture.  All of the paper is Basic Grey's Urban Prairie, which is pretty much my favorite BG paper of all time!  I used CTMH inks to stamp the image and the sentiment and used a COPIC MARKER (*gasp*… I think I'm joining the bandwagon… LURVE, LURVE, LURVE them…) to shadow the little birdie.  I really like the effect of the shadowing.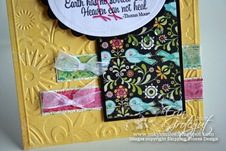 Speaking of shadowing… I popped up the oval focal piece up off the card with LOADS of foam tabs from American Crafts.  I love their foam tabs because they are thin enough to layer and get the exact effect that you want.  The big vertical dark dp was elevated slightly off the yellow bg because of the embossing, so I wanted to make sure that my oval piece layed out nicely.  I loaded it up with foam tabs on the back, 2 layers on the right side, and 3 layers on the left side.
~ Inky Smiles!
PS.  Don't forget about the blog candy giveaway… it's coming up soon.. just make sure to link back to the original post so we can see your creations!
Supplies:
Stamps – SSD's Healing Wings, Garden Stamp Kiss Set
Inks – CTMH Hollyhock & Black
Papers – Basic Grey Urban Prairie
Miscellaneous – ribbon, adhesive, Kaisercraft Rhinestones, Nestabilities scalloped oval and classic oval dies, Cuttlebug & embossing folder (name escapes me).