SSD Sketch Challenge 015: A Sneak Peek
SSD Sketch Challenge 015: A Sneak Peek
OOOH I am still TRYING to recover from my "vacations".. I seriously need a vacation to recover from my vacations. LOL!   We got home from Denver on Sat night, laaaaate, and crashed.  Then Sunday night we had company come stay for an overnight on their way back home to Washington.  I got up early Mon morning to make breakfast and see them off.  (I usually only see two 7 am's twice a week… Tuesday when I work and Sundays for church.  Yes, I am a wuss… and yes, I will own it.)  I just barely unloaded my camera and started looking at photos from Creative University and our Denver trip… hopefully on Wed I can get the pics transferred to my computer and edit a few to share!  I also have pics from my visit with Jeanne, the crochet master!
In the meantime…
Today is Tuesday which means that I am again slaving away at work while you lucky friends are having a wonderful time reading blogs … AND it means that it's time for our Skipping Stones Design Sketch Tuesday!
This month we are lucky to have some FABULOUS sketches from Jamie Bova aka Sgt Stamper!! 
Here's today's sketch:
I had loads of ideas running through my head.. you know that feeling where your brain is on fire but your body is screaming that it wants to go to bed instead?  That's me today.  BUT… I perservered and pressed on….
I pretty much stuck with the sketch as is and threw down some loverly paper layers and stamped a fun little bunny.  The stamp set is called "Gray Hares" and is not yet released.  I believe it is being released later this week or next week. 🙂 🙂
I love this set because I am one of those girls who will never have grey hair.  My grandma doesn't have it and I don't want it.  I love my hairdresser and her magic bottle. 🙂
Anyway… enough dirty little secrets…
The lighting is atrocious tonight, so please forgive the terrible lighting… I have a birthday present from Brent that should be here THURSDAY which should help with my lighting issues… Can I get a woot?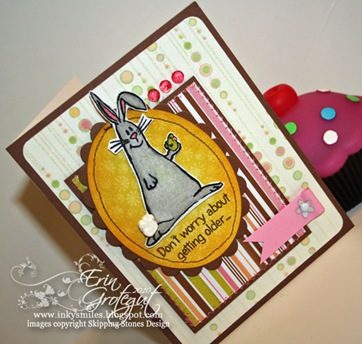 But I'm a cute chick.. Really.. I have grey hairs… but they stay hidden… like all good grey hairs should. 🙂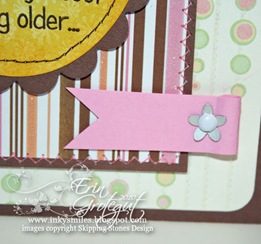 I couldn't resist playing up a fluffy bunny tail with that fluffy schtuff… Liquid Applique.  I love it! Sqwooooshie Bunny! 🙂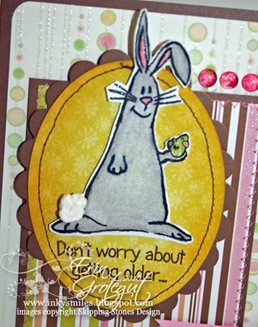 Supply List:
Stamps – Gray Hares from Skipping Stones Design
Paper – Not sure cuz it came from my scraps bin, but isn't it FUN?
Miscellaneous – Dew Drops, Puffy Schtuff (CTMH), thread & Bernie, water color pencils & blending pen, Sakura glitter gel pen, heat gun, We R corner chomper, Liquid Glass, way old My Accents – CTMH.
Inks – StazOn Black and TImber brown, Copic grey blender pen.