Studio Revamp Ideas – His N Hers
Studio Revamp Ideas – His N Hers
I hope you all had a wonderful 4th of July! We had a very fun evening with friends and family. We had some crazy wind happening and I am surprised we were able to light the fireworks, but thankfully (for the kids) the wind died down and we had a blast! Here's a pic of the carnage in the gutter and the last few ppl picking up to go home at the end & some fireworks shots.
Saturday we did a little revamp (aka worked on finishing one of Brent's projects that has been laying around in the garage since The Great Flood) on Brent's "studio"…. He built (and I helped paint) some cubbies to go above his workbench (which will also eventually be painted) in his workshop. He is such a happy boy!
This will be niiiiice so he can put away tools & things so that I can actually park my car in the shop/garage. (B tells me that it's HIS workshop that I can park my car in… lol! Fine with me…) Everything we were working on was put on hold because of The Great Flood and we're sick & tired of half done projects so we're working on getting some of them tied up and done so we can move on as planned. We have 3 weeks to get the tile in the kitchen & bathrooms before the wood floors get here so we gotta get moving.
So this morning I am dreaming up ideas for my "new" studio…. (cuz I want to be able to get going on getting it painted and ready so we can put the flooring in and then build my cubbies from B's bday present to me back in March.)
I've already chosen the "color scheme"…
….and I keep adding to it… less brown and more fun colors. I picked up a couple more paint samples to play around with for the color scheme.
I still want green walls, just gotta find the "right" green. I want this to be a creative, happy place that inspires me to create happy & fun art.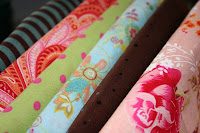 I also found some fun fabric for my curtains… I can't remember if I have shared this pic or not yet, so I will share again. Hehe! The curtains will be a kind of patchwork valance and I will stitch some fun trim into the bottom hem.
What ideas do you have for your crafty space? We all have different spaces allotted to us based on our individual circumstances and I love to seeing what people have done with their spaces! I've perused the internet and have seen some beautiful ginormous spaces and cleverly organized and beautifully decorated small spaces.
Inky Smiles!