Washington —-> Utah or BUST! Road Trip, the Book.
Washington —-> Utah or BUST! Road Trip, the Book.
Today I am grateful for lasting friendships. Some people come into your life for a season, some for a reason, and some for forever. I have many friends who I have kept in contact over the years and am so grateful to still have these friends in my life. Last weekend one of my forever friends, Sarah, came to visit from Washington.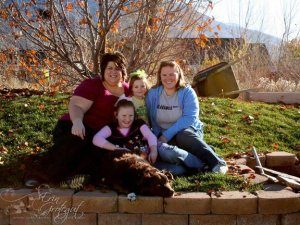 She brought along her two daughters (L & S) and her fiance (Dustin) & Dustin's little dachshund, Chip, on their way to meet Dustin's family over the Thanksgiving holiday. Sarah and I have been friends since we were 15 years old and met in Berlin, Germany where our dads were stationed with the Army. We lost contact over time but 3 years ago found each other again. Like most of my friends from Berlin, when we met up again it was like time had not really passed. We just sorta picked up where we left off… only this time Sarah had two darling daughters to add to the mix. We had a BLAST hanging out together and enjoyed a lot of laughs. I have tons of fabulous photos that I have been working on editing and a disc to burn so Sarah can print off pics when she gets home and tons of photos to make some fun digi layouts with! I guess I better get busy!
Remember the sneak peek from the other day? Well, here's the whole thing…
I wanted to give the girls something fun to remember their trip by. This is a big trip for them, meeting new "future" cousins and grandparents, etc. I made two little almost matching 6×6 mini albums for L & S to put photos from the trip in and added pull out tabs to journal their memories on. The back covers match up to spell out Road Trip. I kept the books to put vinyl covers on so the Stickease stickers don't peel off and the covers don't get destroyed on the trip. I'll mail them off this week so the girls will have them when they return home 🙂
Materials Used:
* Bind It All Machine
* BIA 1″ white OWires
* CTMH Road Trip Papers & Stickease Pack (retired)
* Miscellaneous coordinating ribbon
Click on photos for a better view. Some might be a bit fuzzy… for some reason PSE was saving as GIFs and not Jpgs and I didn't catcht it on some and don't feel like re-editing the pics.