3Fiskateers Misison: Fiskars XL Tag Punch
3Fiskateers Misison: Fiskars XL Tag Punch
I am a member of Fiskateers. It's totally cool! My friend, Robyn, told me about it a while back and told me that I'd get a free pair of scissors for joining… Well, a girl can always use a free pair of scissors, right? So I joined, thinking, "ok, I will get the scissors and call it good." The girls in the group are WAY COOL! AND I was invited to take part in a secret 3 Fiskateers Mission.
They sent me a Fiskars XL Tag Squeeze Punch and I got to play with it and come up with a couple of different projects and KEEP the punch. WOO HOO! I thought, "Sweet! an XL tag punch! I was thinking XL would be huge, but when it arrived, I was a bit surprised! The XL tag was only 3/4″x2″ OUCH! The XL tag punch is actually fairly small, and I had a difficult time making the tags as the primary focus of projects. They are almost too small to write much on for journaling, but they work fantastic as accents to projects.
Ok, rethink what my original plan was… think, think, think….. SO I put off the project for a couple of weeks and in the meantime, I put together a really cool 8×8″ doggie album kit from one of Archiver's cool classes. The kit was PACKED with papers and paper embellishments and so I had all these scraps leftover after…. waste not, want not.

The above photos show how to use the tag punch. Line up Paper & Squeeze Punch.
The first project I made is a very simple card (standard 4.25″x5.5″) with tag accents. I used CTMH inks and acrylic stamps, misc. buttons and accents. I sanded the paper and used a textured scrapbook paper for the blue horizontal accent between the red paper and the stamped background. The buttons are adhered with Liquid Glass by CTMH (aka Dimensional Elements by SU). Everything adhered with the Scotch ATG tape gun.
The dog album was so much fun to make. The album pages are made from Basic Grey chipboard which I covered with Dog Days paper by Deja Views. The papers & misc paper accents in the album are scraps that were leftover from a larger 8×8 Dog Days album that I made. The ribbons are a variety of odds and ends from my ribbon jar. The honkin huge nuts and bolts eyelets were from Pebbles In My Pocket… I think they've been discontinued, but they are so fun to use! I literally used only scraps for this album. I think it shows a fun project that I did not have to go and purchase ANYTHING for to create. (My hubby & pocketbook were much happy.)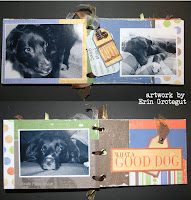 I used the tag punch to cut out cute accent tags for journaling and other fun tidbits throughout the album. I first cut out the base tag and then adhered it to a contrasting piece of cardstock or paper and then cut around the edges to give the tag some beef. The punch was the perfect size & scale for this mini album. The tags on the page with the word "doggie" on it are removable for hidden type journaling. The tag on the last page with the words "What a Good Dog" is also removable for hidden journaling.


Everything adhered with the Scotch ATG tape gun. The album fits neatly in a little kraft paper box that I picked up at XPedex & altered to coordinate with the album.