A Copic Christmas
A Copic Christmas
Good morning friends!
I have this friend who's really super cool.  She teaches fabulous classes and has a spot on our local tv channel.  I try to make it to her classes whenever I can, it's a fun night of crafting with the girls.   My friend is Sue Neal of My Eye Q.  One of the coolest things about Sue's classes is that if you can't make it to her local classes she will mail your kit to you!  Each kit comes with excellent instructions and her follow up emails contain extra goodies for creating more projects.
Here's a pic of last week's class.  SoooOoo much fun, and darling gift bags/boxes.
When my mom was here last month we took Sue's Copic Marker class and created some fabulous Christmas cards.  We learned shading and basic coloring.  I'm hooked on Copic coloring – guess I better start saving for a bigger set of Copic Markers!  I think I even got Mom hooked on coloring.  She ordered a set of markers, too. 
Here are the cards we made in class.  We used Penny Black stamps, stamped with Memento Tuxedo Black ink.  (It's the best ink for coloring with Copics.)
This card is my absolute favorite.  I bought the stamp to make more cards for next year, or maybe this year if I get around to it! I love religious themed cards.  Afterall, it IS the reason for the season.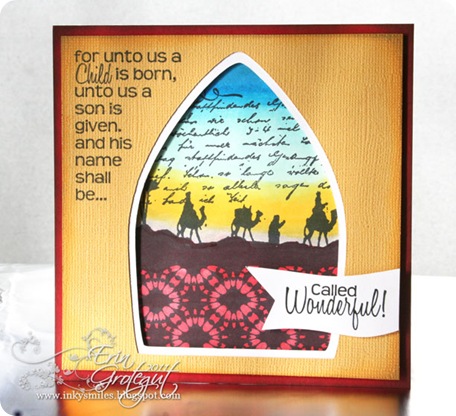 Hope you're getting all caught up with your Christmas preparations!  Get our your markers and make some cards!
Inky Smiles!
PS.. I also figured out a new photo lighting prop, thanks to Michelle Johns.  I love it! I love how the photos turn out with the reflection and muted background. 
Rather than try to tell you how, here is the link to the instructions: