A New To Me Craft… Stained Glass
A New To Me Craft… Stained Glass
Before Brent left to go out campaigning (door to door visiting) this morning he told me "You HAVE to put some crafty stuff back up on your blog again.  People don't want to read about how busy you are again." LOL!  Ok, darling, dear…. 
While we were in Massachusetts we bounced around from house to house (on the 2nd part of our trip) so we'd be able to see and visit with more family members.   One of our nights (the last night) was spent at my cousin Nichole's house.
I never knew Nichole was so crafty and artistic until last year when we received a wedding invitation from her for her wedding in beautiful Jamaica.
This is the box that showed up in my mailbox… intriguing!!!!    And then I opened it up!  Wowza!
What a FABULOUS way to invite people to your wedding!  There is even REAL sand and little tiny shells inside the bottle.   (I have it here in my studio because it's a cool little gem to look at.)  I wish we would have been able to go to the wedding!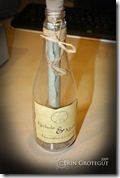 So anyway, back to the new to me crafting.… on our last night there we (we being my youngest brother, Jake, his wife Jacoby, and myself) got a wild hair and decided that we wanted to try our hands at Stained Glass making.  Now, Niki and her mom both do stained glass as a hobby.  My aunt Sue should probably do it to sell because she does a FANTASTIC job.  Her artwork is simply GORGEOUS.  (She gave me a fabulous piece that she made of a crane in a marsh, but my mom had to take it home in their truck because it was too big to haul home safely on an airplane.  I can't wait to go home in Nov and pick it up.  I will share pics then!) 
I have been fascinated with stained glass for as long as I can remember.  I can remember standing in churches and museums and castles in Europe (I lived in Germany from '86-'94) and staring in awe and amazement at the phenomenal stained glass windows and artwork.
It was about 10 pm when we all decided to try our hand at stained glass, and it took a while to pick out suitable patterns to create as beginners.  Jacoby made the cutest little frog family that she free hand drew and created her own pattern for and Jake made an Iowa State emblem. 

Making stained glass is a lot easier than I thought it would be but on the other hand it is a lot more time consuming and than I thought it would be, too.
Here are the basic steps:
1)  Choose a pattern.   The more small pieces it has, the bigger pain in the butt it is and the longer it takes.  We altered my pattern and combined smaller pieces into larger pieces. (Thank you Nichole for steering me clear of the intricate details that I love. LOL!)
2)  Enlarge your pattern, number your pieces, and cut out with special stained glass scissors that have a little channel to allow space in the pattern for the soldering stuff.
3)  Choose you glass colors and textures.  Holy moly!  She had TONS to choose from… so many choices.  Worse than making cards and choosing the color scheme because not only were there varieties of color, there were varieties of textures, too!  Ay yi yi!
4)  Trace your pattern pieces onto the glass with a sharpie marker and number.
5)  Cut out your glass pieces with a special glass cutting tool, then use another special tool to snap the score line in the glass. (This part kept freaking me out because I was afraid I'd break the glass wrong.)
6) Lay out your pieces and double check and see how you like your colors/textures, etc.  Re cut anything you don't like.
7)  Grind your pieces down to the traced line on a grinding machine.  Make sure you take the "smooth glossy edge" off the edges of the glass.  This was the most tedious part of the whole night.  This is where you realize that you only want a few pieces of glass instead of a crazy intricate design….
8)  Wash each piece with hot soapy water and check the edges to make sure there are no smooth surfaces.   Make sure to rinse off all the soap residue.
9)   Wrap each edge with a special copper tape.  This gives the flux and the solder something to stick to.
10)  Paint each edge with liquid flux and then use a solder in iron to go around each edge and heat up the flux and put a bit of solder on the edges.  This is the step where Erin burns her fat little fingers. OUCH!
11)  Lay out your pieces on a clean, cork board thingy covered table and line up for fit using a square (if you need to make your art square). 
12) Using your soldering iron and a roll of solder, create your "lead" lines and sauder the whole darn thing together.  This part is fun, but it was near midnight when mine was getting finished up so we sorta rushed a little and the lines aren't as pretty as I would like… I think I can clean them up a bit with a soldering iron here at home 🙂
When you're happy with your lines and are finished, wash up your stained glass artwork with soap and water, then polish with regular car wax and use a very fine steel wool to polish up the solder lines and VOILA!  You have made your first stained glass!


Mine has a lot of imperfections and some pieces got cut funny, but for Stained Glass at Midnight for my first time I think it turned out kind of neat.  All that is left to do is for me to sauder two little hangers on it and then hang it in my kitchen window.  It's so pretty with the sun coming in and reflecting the colors everywhere.  I heart it 🙂    Thank you Niki, YOU ROCK!
Inky Smiles!
Erin