California Adventure 2007
California Adventure 2007
Well friends, I am back from Tahoe. Can I just say that my vacation (combined with Brent's business trip for city council) was an ADVENTURE!!!
We were SUPPOSED to drive to Bridgeport, CA (tiny podunk town), stay one night, and then drive through Yosemite the next day on our way to see Terri Howard. Wellll…… we had a little car trouble (little meaning – the quick connect for one of the hoses completely blew out) and nowhere was open because it was Sunday. The one garage in town was closed and the hotel guy had seen the tow truck guy hauling lumber out of town earlier. What luck.
To make a really long story short, we prayed and prayed for guidance in what to do to get somewhere where we could get the problem fixed. We spent the day trying to make phone calls,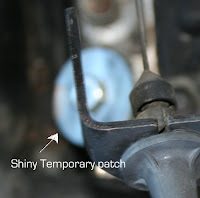 calling the insurance company, and trying to find somewhere to get the car fixed. There was no way were we driving anywhere. Late in the day we wandered back into the Sweetwater Trading Post gift shop to blow some time… well B had said somethign to the lady who owned/ran the place and she asked us when we went in again if we'd solved the problem….. turns out her DH was a mechanic at one point, she called him up, he came over, made a temporary part to plug up where the hose blew out of, and clamped down the hose and sent us on our way. (We'd brought a few tools with us and had some medical tape in the first aid kit. ) YAY!!! The kindness of strangers sure is something else. This man, John, didn't know us, but was willing to help us get on our way and refused payment for his help. I am grateful that he was the answer to our prayers. Later in the week, we drove down to Gardnerville, NV and had Terri's friends DH make a permanent repair. We went straight up to Lake Tahoe and I didn't get to go see Terri. I'm going to have to plan another trip to the Sacramento area and go see her.
Lake Tahoe was TONS of fun! The weather was fabulous, high 70's and low 80's all week with nights in the 40's-50's. PERFECT for me. Brent enjoyed his conference and I enjoyed the spouse activities. I got to make 2 candles at the Waxen Moon… totally fun!!! We went on a cruise on the lake and had a fabulous dinner at High Camp (2,000 ft above the Village). I survived the cable car ride, too… lol! 2,000 feet ascent in 8 minutes. It was soooo much fun! I can not wait to go back. Here are a few pics from the fun part of our trip……