Idea Book Round Up
Idea Book Round Up

So when I was a consultant, it was "no biggie" to have my Idea Books floating around my office because I used them all the time. Now that I am no longer a consultant, I don't really need them floating all over my office or falling all over each other because they don't stand up very well.
A couple of weeks ago I took these CTMH idea books down to the local copy shop and had them ripped apart (the IB's are not bound the strongest, so they come apart easily), had holes punched in them, and then laminated the front cover of the Autumn/Winter book for each year and the back cover of the Product Review and then had them spiral bound. I used 5 mil lamination sheets. 10 mil would work well, too, but it was twice the price and 5 mil works just great for me. They stand up neatly in the book & magazine section of my closet.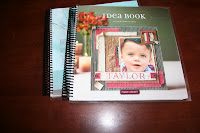 If you want to take it a step further, you could punch out some giant tabs and adhere them to the front page of each idea book for quick reference or create and decorate divider pages and have them bound in between each idea book.
This was fast, easy, and relatively inexpensive, $15 to bind both years of books. Click on the photos for larger views.