Creative University Recap #2 – Cluster Necklace – My Class
Creative University Recap #2 – Cluster Necklace – My Class
Sorry for the delay – I got a little distracted by some things at home.  Back today with another Creative University Recap.
Tresa asked me to be a teacher for C.U. waaaaay back in the fall of last year.  I was so excited and nervous and had a trillion ideas going through my head and then she specified that I would be teaching a Jewelry class. Oh boy… more ideas started swirling around… and then I settled on one idea. 
Here is the cluster necklace/junklace that we made for my CU Jewelry class.
I went to a few gem fairs and jewelry shows with my friend, Valerie, and started collecting goodies that I could incorporate into my project and started making a prototype. I spent a couple of weeks hemming and hawing over the last couple of elements for it.  I had a budget but I liked the rolo style chain better than the "gangsta style" curb chains and I had an idea for a fabulous "souvenir" style charm that I just HAD to squeak into the budget.  Well, I threw the budget out the window and spent a little extra on my project. It was so fun and so worth it. 
Packages of goodies in my studio.. It was like Christmas.. a big, fat, blingy Christmas!
Here I am adding the first sneak peek to the CU students facebook page. Buwahahaha. I loved being just a little sneaky!
I pre made 120 charms for the necklaces.  First, I did 61 (I broke my first one, which is why I premade them) crystal drop charms shown below tied together like a chandelier.
And then I premade 60 of the custom designed mother of pearl CU "souvenir" charms. I designed the artwork in Photoshop Elements and then brought it over to Valerie's office and she laser engraved them for me.  BUT, laser engraving was not the last step before they became charms.  I hand filled them with silver paint and then cleaned each individual charm and set them to dry. My fingers were painted in silver splotches for a couple of days.  Here are a couple of snap shots of my CU souvenir charms.
Once my two premade charms were completed and ready to go I set out to sort out parts for 60 kits.  Holy moly… this was a LOT of sorting of teeny weeny pieces. 
And then I packaged them all up into neat little bags and topped them off with cute little cardstock "toppers".
Ready to go to Creative University!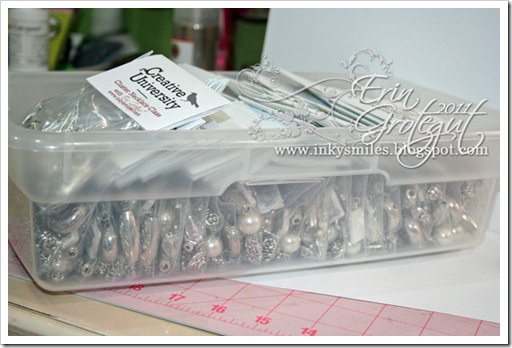 I taught two classes at CU.  One Friday night after dinner and one bright and early Saturday morning.  Here are some snapshots of the two classes.  We had so much fun and everyone finished their projects before they left class!
Teaching wire wrapped loops with Erin's Pipe Cleaner-Noodle Method.  Not sure WHAT I was saying or thinking or cheesing with that crazy look on my face but I love the sexay apron that Tresa made for us teachers!

I had four FABULOUS teacher's assistants/Charm Fairies (two for each class) who were amazing and helped keep us all on track with our charms and necklaces.  My Fairies were Kari Seals, Tamara Werderber, Melody Pugh, and Michelle Johns.  I made each of them a special charm as a thank you gift.
Here is a pic of me and three of my Fairies… I'm not sure why Tamara isn't with us but I went back through my pics and found one of me goofing around with Tamara and Kimberly.
And here are some random fun shots of my classes.
I had such a fun time teaching this class!  I think everybody learned something new or sharpened their skills or opened the doors to a new hobby.  
Inky Smiles!
 
PS.. If you've read through this entire post, thank you!  Leave me a comment on this post and tell me why you need a new pair of earrings  (be creative) and I will draw a winner for a pair that match this necklace!   Winner will be posted on Thursday night after 8 pm mountain time. Winner will have 2 days (claim by Sat 8pm) to claim the prize before another winner is drawn. Please email me your contact info once your name is drawn.