What is better than a plate full of cupcakes (or yummy lemon poppyseed mini muffins for your sweet neighbor)?
A stack full of cupcake CARDS!
My friend, Heather, asked me to be on her design team for her stamp company, Skipping Stones Design.  They've been around for a while now but she is revamping the website and the store and preparing for a grand re-opening.   No definite relaunch date but I'm excited to share with you some of her stamps!
Anyway.. she sent me several stamp sets and I have been having a lot of fun with this cupcake one.   I should have snapped a photo of this set before I stained it up with permanent ink…..  I love being able to mix up the cupcake stamps. 
My friend, Tammy, came over to play last week (after school – she's in college getting certified as a medical assistant, hence the scrubs) and we made a boatload of cupcake cards and a fabulous BRA card (from a different SSD set.. .coming later). 
Oh… and I have to brag her up!  Tammy competed in a State wide competition of medical assistant students and took FIRST IN THE STATE…. and then she went on the the NATIONAL competition and took SECOND IN THE NATION…. How cooool is that?  GO TAMMY!  ROCKIN' THE COMPETITIONS!
Here's my card that we made loads of duplicates and variations of.  This was my first "test run" of the stamp set so it's super basic and simple.   But hey, I like basic and simple.  I ran the card front base through my CuttleBug, using the Swiss Dots embossing folder.  The cupcake is mounted on my new Nestabilities Labels die and is accented with Liquid Glass. I cut a rectangle for the sentiment and used a hole punch to snip the corners.  All CTMH cardstock.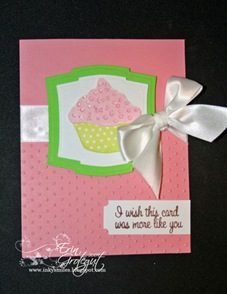 Here's a little mini card I was toying around with with leftover pieces of cupcake…  I used scraps of CTMH patterened paper and CS and a bit of white organdy ribbon, also CTMH.   THe edges of the papers are cut with Fiskars and Martha Stewart border punches.  The card measures approximately 2.75×3.5".    I used a Quickie Glue pen to outline the cupcake frosting and sprinkled it with Cupcake Glitter.  I was messing around with Liquid Glass on the cupcake wrapper, not sure I like it.  Sentiment is SSD.
I have a few more cupcake cards (my FAVORITES) to share in the next couple of posts.    Till then… INKY SMILES 🙂