Digital Organization & Enabler Alert
Digital Organization & Enabler Alert
So while we are on the topic of organization, I thought I might share how I organize my digital stash (digital scrapbooking supplies AND digital photos AND digital layouts, etc).
Last year several girls in my Photoshop class recommended the program ACDSee
to me for helping me organize my digital stash. At first I was a bit overwhelmed, but then I found some cool online sources for help and now I love using ACDSee
to organize my loot. Basically you can tag each of your items with whatever attributes you would like to use for your version of sorting/organization. Once you're all tagged, you can select the attributes that you want from a list you create and ACDSee will pull up what you're looking for.
You can tag by designer, by kit name, by color, by texture, by pattern, by theme, whatever helps YOU keep track of what you've got. You can put as few or as many tags on an item that you want. Then, when you're ready to search, you can also select as many tags (attributes) as you want and start pulling up and viewing items. IT's AWESOME!!! I tag everything first and then sort out into their new "storage categories".
Here's a super quick & simplified breakdown of how I organize my digi scrapbooking supplies:
When I first download new kits and items, they (the zipped folders) go to a folder on my desk top called "Zipped Digi Scrap". I save the zipped files in here until I get a chance to unzip and sort them into their appropriate files.
** On the left side of the screen shots you see a list of files. These are the actual folders on my computer where the files are physically stored. This is where I would drag and drop to physically sort and organize the files.
** On the right side of the screen shots are the lists of categories of tags/labels. This is where you drag and drop for tagging purposes only.

When I unzip the files, I save them in an "New Digi Scrap to Sort" folder. I know this might seem like overkill, but it works for me and I don't always have gobs of time to unzip and tag and finish sorting at the same time. Sometimes I "buy and fly"…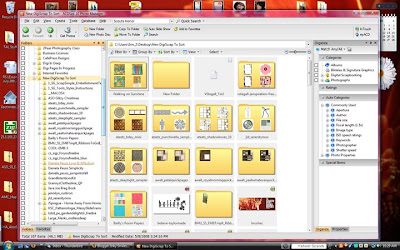 Anyway… When sorting them and tagging them, I open up ACDSee and begin the sort process. (Something I learned the hard way: If you don't sort & tag within the ACDSee program, your tagging system will not work. Always make changes IN the ACDSee program.) I first label the whole folder by Designer and then the Kit name and then go through each element of the kit and start tagging. Once you have set up your tags/labels, it's a relatively quick process.
Here's an example of where I have downloaded a Jessica Sprague kit and began sorting. The first thing I did was to create a folder under Designers>Jessica Sprague for the kit "Home Away From Home". Then I highlight everything in the kit and drag it over to the Home Away From Home tag under Jessica Sprague. This tagged EVERYTHING in that kit as Jessica Sprague – Home Away from Home Kit.
Now, after I have sorted things (not tagged, actual sorting) into their appropriate files I can go back into ACDSee and select the Jessica Sprague – Home Away from Home tag and it will pull up everything in that kit in the view window, and then I can drag and drop what I want to use into Photoshop.
After the main kit tagging, I go back and open up each and every item in the kit, papers, embellishments, word art, etc and tag them appropriately. In this example I have tagged a striped paper from the Home Away from Home Kit. When I select the paper file, I drag it to the "Stripes" tag under Patterned Paper, under Papers. The cool thing is that it applies all the tags "Papers, Patterned Papers, Stripes" to the file all at once, with one drag. YAY!
I do this for all the elements in the kit and then go and sort the items into my actual folders categories which reflect the same names as my tagging categories. This part is super fast because I can pull up all items tagged Paper, Staples, Brads, whatever and just drag and drop into their new folder home.
This is super simplified, but I hope it helps someone. You can get some great tutorials and more detailed help from a site called Digi Scrap Info. They have some amazing ACDSee tutorials. 🙂 You can also read more info on it from Jessica Sprague by clicking here to go to the article on her blog.
Happy Organizing! We have a super busy week this week! A ton of InkStaks to build and ship out, a big church ladies event (Enrichment) in my backyard on Wed night (Dutch Oven cooking… mmm) and I have to start sorting things in the house so that we can get ready to start working on replacing flooring. I found some awesome hardwood flooring for an AMAZING price online! It should be here in about 10 days! WOO HOO!
So now that I have told you all about this,
here's some FABULOUS news!!

ENABLER ALERT – BIG SALE BIG SALE BIG SALE!!!
Receive 40% off ACDSee 10 Photo Manager!
Take advantage of the Summer Fun Sale! Offer Expires 08/26/08
6/24/08 UPDATE:
I've gotten several emails on what my "tag structure" looks like. The easiest way other than typing it all out is to give you the screen shots. Thank goodness for that function! I've also been asked what the difference between the PSE Organizer and ACDSee is. I can't really tell you other than I played with PSE Organizer for a couple of days and did not like it. I went back to using my Windows file system to sort and organize… and then I discovered ACDSee and loved it. One thing I didn't like was how PSE Organizer bogged down my computer when sorting and tagging, etc. I think you just have to compare the two for yourself.
Click photos to view larger & details