Inky Smiles Update
Inky Smiles Update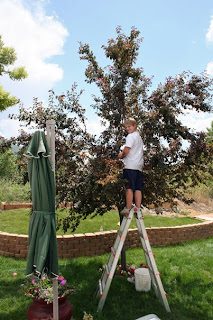 Hi Friends!
I have been AWOL for a while now and I am sooo sorry! We've been super busy with the house, Brent's city council duties, my church responsibilities, our regular day jobs (extra days for me this week), and various other projects around here and I haven't had time nor the energy to blog or create.
Yesterday I cleaned out my laundry room and started some big bags of clothing for our local Women's Shelter, Goodwill, and such, AND I finally spent some time here in my makeshift office (aka the one of the rooms of our "store" where I store the Bind It All stuff – still working on the website) so that I could stand to be here at the computer for more than 5 minutes… So, today while one of the "Mini C's" (see photo to left) is earning money for a new bike by de-fruiting my way overzealous "flowering" plum tree and I wait for my laundry to finish I shall blog…
Over the past two weeks:


1.) We've played around with trim options and built a TON of InkStaks in the past couple of weeks. Thank you! Thank you! Thank you for your purchases!

2.) We are beginning to put the walls back together in the basement. Brent has been sanding the seams where the new sheet rock will meet the old sheet rock so that we get some nice seamless seams and he has put the sheet rock back up in the under the stairs closet. So now we can get going on tiling under the stairs and then putting all my Christmas stuff back in there. (The whole closet is devoted to Christmas!)
3.) This weekend (after the big BBQ & Fireworks party) we're going to be cleaning the walls in the family room so that we can touch up the paint and put the carpet & baseboards back down. YAH BABY! This means that we can start putting the furniture back into the family room and I can unbury the majority of my crafting supplies! I CAN'T WAIT!!!!!

4.) I've painted some test colors (6710 Melange Green & 6711 Parakeet) on 2 walls of my studio…. one is too dark and one is too light, I think I am going to have to mix the two and see what I can come up with.
Updated 7/6/08 5.) After much thought and research, we have decided that while the house is entirely torn up we will be replacing ALL of the floors (except the unaffected flooring in the basement). We're doing all the work on the repairs (no contracting out) and the insurance money should stretch pretty far this way. We've chosen a beautiful hardwood floor for the first floor and my studio and a couple of porcelain tiles (here & here – I think we're leaning towards the darker one) or the upstairs bathrooms and kitchen. THis is going to make for one heck of a busy month! The wood flooring is on back order until the 1st of August so that buys us some time to get the tile done before we do the wood (and also not scratch the wood while installing the tile).
6.) We finished building and planting our garden boxes on our back
hill. We were set back a couple weeks with the whole flood mess. Currently I have 5 strawberriy plants, 17 tomato plants (we'll be canning this fall), a slew o' carrots, 4 green & 4 mixed red & yellow bell peppers, 1 "Jose Jalepeno" plant (thanks Jeff Dunham), 4 cucumber plants, 1 watermelon plant, and a small herb garden all coming along nicely. I will be giving away a lot of treats this fall when everything comes on! LOL!
Next spring or this fall we will work on putting landscaping fabric and gravel between all of the ga
rden boxes. I am even considering

planting some grapes along the backside of the hill… mmmmmm. Next year we will finish the hillside down by the pool and add more trees to the yard. It was supposed to be this year…. but that was before the Great Flood Project.
7.) We ended up having to purchase a new pool because once we'd patched up last year's holes and partially filled the old pool we discovered NEW holes…. not just one or two…
more like 6 or 7.. UGH! SO, we hit Sam's Club on Saturday and purchased a new above ground pool. WOOT! It's now 3/4 full with lovely green irrigation water and we're getting ready to hyper-clorinate (aka SHOCK) it and begin the filtering and cleaning process. Within 24 hours of shocking it, it will be crystal clear and clean and ready for swimmers. HOT DIGGITY!!! This is our weather forcast…. we're going to be thankful for the pool.
8.) My favorite news so far …. After two years of saving and researching, praying about and thinking about it….. I finally purchased a new sewing machine and retired my clunky old Singer!!!! The store I purchased from had an AMAZING salesman who spent 45 minutes with me going over the machine and showing me what it can do and was not at all pushy, unlike a different store that I visited.
Anyway… Nuttall's BEAT the price of the other store by $150 AND gave me a trade in on my old machine, so when all was said and done, I was about $300 UNDER what I had saved for the machine. YAYHOOOOO!!!!!!! I start a sewing class TONIGHT! (In fact, it's every Tues in July from 6-9 pm.) I already know how to sew and have made oodles of home decor and clothing projects, but this will be great to have a "real class" and get to know my new machine. I am stoked to get started on the curtains for my studio!
9.) Saturday night we had a fire on Molly's Nipple (mountain behind our home) and I stayed up taking some photos with my 300 mm zoom lens and remote trigger, trying to get some good shots. I submitted some photos to the KSL online gallery and when I looked up the story the next day, there were my pics (click on the gallery that shows 3 pics.. my pics are #2 & 3)! Cool, eh?
10.) I took 1 day off and read a book that came highly recommended to me be Alisha. She's been bugging me for weeks to read it and my library finally got it in for me! If you get the chance, you've got to read, "These Is My Words: The Diary of Sarah Agnes Prine" by Nancy E. Turner. It was a really easy read and very interesting. If you think your life is hard, you've got to read this book. While it is fictional, but loosely based on the life of the author's great great grandmother, it sure was a good reminder about how things "could be"….
*SIGH* I think that's it for now. I am working on a tutorial for a fun project that is perfect for gifts for kids and family… I hope to have time to get it done later tonight or tomorrow after work…
Inky Smiles! If you've read all the way through this, leave a comment and let me know you're still around… I might just have to draw a random winner for something fun on Friday SATURDAY (We're gonna be bizzzzzzy bees on Friday)!!!