Happy Halloween, Mr Mummy!
Happy Halloween, Mr Mummy!
I am generallly soooo not into Halloween (this year I'm ok with the cutsie, silly stuff), but I saw this idea on a Bind It All group I belong to and had to copy it… she copied it from a post she saw on twopeasinabucket.com, too. LOL! Anyway… I finally sat down and decompressed a little bit with some crafting tonight before a meeting I had at my house for church stuff. (Big huge change coming in my life… details a little later, maybe tomorrow.)


This cute little guy is a 4×4″ chipboard and cardstock book. I handcut 4″ chipboard covers (my Bind It All covers are not here yet) and painted them with black paint, then covered with black cs (inside of covers) and white textured cs, torn and inked in black for the outside covers.
The eyes are just circles punched from cs. The "boo!" letters on the front are the coolest new thing… VELVET Thickers from American Crafts… I just picked them up on Friday from the American Crafts warehouse… SWEET STUFF!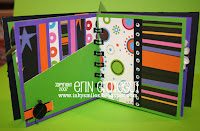 The inside base pages are cardstock that I cut 3 7/8″ square and then created pages on them with various cardstocks and embellishments. Mini books are so much fun and relatively fast to make once you decide on the paper combos.
Materials used:

Bind It All Machine – Zutter
5/8″ Black Owire – Zutter
Chipboard – Graphix
White textured CS – Archiver's brand
Green, Purple & Black CS – CTMH
Misc patterned papers – CTMH "Happy Halloween" (retired) & American Crafts
Misc ribbons -American Crafts, CTMH, generic brand
White Galaxy Marker, Black Marker – American Crafts
Misc embellishments – CTMH
Click on photos for larger view.