Happy Halloween
Happy Halloween
Happy Halloween, friends!
It's been a looong day, today we were up bright and early to do a final blitz of fliers/flyers (can't decide on the spelling, but I really ought to look it up, lol) on our good city. Several friends met us here at the house for hot chocolate/wassail/oj/milk at the house early this am and then we all set out to hang the last of the fliers/flyers. I had a carful of young ones and we hit about 500 houses. I think we finished around 2:30 pm, just in time for me to drop kids off at home to get ready for Halloween festivities and to run some errands for our evening festivities.
I'm not usually a big Halloween person, but this year I wanted to at least dress up a little… so while I was running errands at the great W I found some fabulous falsies (eyelashes) and since I have always been a little fascinated by fabulous eyelashes I thought I'd try them out.
The costume started out as me being the chunky version of Elizabeth Taylor, but then I remembered I had a great witches hat in one of our Halloween/Fall decor Rubbermaid bins and sent B off to fetch it for me. WOOT! And then I remembered I had this awesome new black frilly skirt that would be cool and I had some fun patterned nylons in the back of the sock drawer… so a "wicked" witch I became. Brent, of course, was a politician tonight.
A few days ago I picked up some 99c eye shadows over at Sally Beauty Supply and wanted to play around with them. (I've never really worn "smokey/sultry" eye shadow before and this was loads of fun. The hair flower is courtesy of Icing. I am looooooving hair bling lately!
Here are a few snap shots: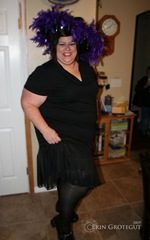 We had loads of kids come by this year and ran out of candy right before this photo was taken. I headed over to a girlfriend's house to drop off a birthday treat and then we headed out to another friend's for a really late dinner.
Hope you all had a fabulous Halloween!
Inky Smiles!
Erin
PS.. please ignore the unpainted trim on the pantry door… we hung it up and I started to paint it when we realized that the profile was not an exact match.. it was just enough "off" that it looked strange. Gonna pry it off and cut a new piece to match this month. 🙂