Happy Valentine's Day!
Happy Valentine's Day!
So I couldn't share this yesterday (Monday) because I never know when my sweet husband might be haunting my blog.  And ya know, I really didn't want him to see this ahead of time. 🙂 He likes surprises and sweet notes.  We had a quiet and sweet Valentine's Day and attended his brother's wedding. Next week we hope to do a fun/fancy dinner.
I am mostly ready for CU.. most of my goodies are packed and I am tying up a few loose ends before I go.  I slipped back into my studio the other day to whip this up for Brent.  It's a simple little card.. standard size with a message that's "to the point". 🙂  I used some plain red cardstock, some patterned paper (I can't remember who's it is, haha) a Fiskars scallop border punch, some ColorBox chalk ink, some AC Thickers (glitter – yes!), a few KaiserCraft rhinestones and a  couple of stamps from the There She Goes stamp set "What a Hoot", and some AC Foam tabs for dimension. OH, and I used my awesome corner chompers by WR Memory Keepers. I love that little chomper!  I freehanded the heart and I am happy it turned out so well on the first go.. usually my hearts are pretty lopsided!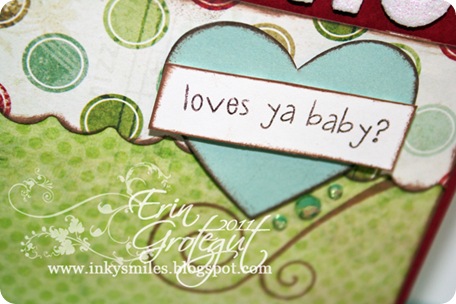 Who loves ya baby? I do!
Inky Smiles!