Last of the Cupcakes
Last of the Cupcakes
Hey all!  I disappeared again for a bit.  No excuses other than life happening and priorities being lined up, etc.  Brent's out mowing the lawn and I just finished a project to share with you tomorrow or Wed so I figured I had better get this posted first….
Here are the last couple of cupcake cards.   Well, one uses a sentiment only from the set, and the other is all chocolately and yummy.   These are my two absolute favorites from this plate of goodies.
Here's the set from Skipping Stones Design.  
Heather let me know today that the shop is scheduled to open on September 30th.  YAY!  She's got some fabulous treats coming up for you.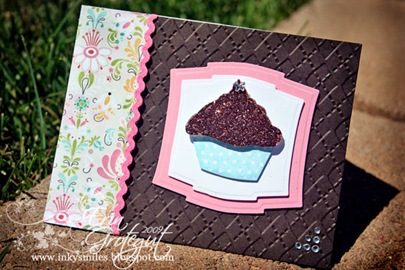 This card was fast and easy to make.  I used some Basic Grey Urban Prairie paper, Archiver's dark chocolate cs, some ric rac, CTMH white and blush cs,  and oooodles of Doodlebug glitter.  The cute little cuppycake is topped off with a rhinestone star.  I'm really digging the argyle embossing folder for the Cuttlebug.  I like the contrast in texture and pattern that it provides with a lot of girlie things. The bottom right corner looked naked, so I added a few little rhinestone dots and then I felt better… hehe… rhinestones are a card's best friend.
This little card is my absolute favorite of the bunch and of most things I've made lately.  It is COMPLETELY not my normal "style" and is out of my "box".   I have a hard time combining lots of patterned papers… I always feel "cluttered" when I do that, but this time it really worked . I had to keep remembering what the nice lady at the quilt fabric store told me years ago when I had to pick out fabrics for a yellow brick road quilt that I made.  I needed a whole lot of coordinating patterned fabric and was in a tizzy trying to decide… my ocd brain was in overload…. anyway…. 30 mins later I ended up with 30 different fabrics and the quilt turned out beautiful! (I'm looking for the pics of it…)
Anyway… this card ended up being super fun to make.  The patterned papers are from Basic Grey – Urban Prairie.  I used a CB embossing folder to emboss the CTMH kiwi cs and tied a piece of American Crafts ribbon on the card.  I used my Nestie scalloped circle to cut a piece of BG paper and tucked it in the corner.  I added some rhinestones to embellish and called it good.   I really like that CB folder and have got to play with it again… first time I used it here…
Hope you're having a GREAT day! 
Inky Smiles!