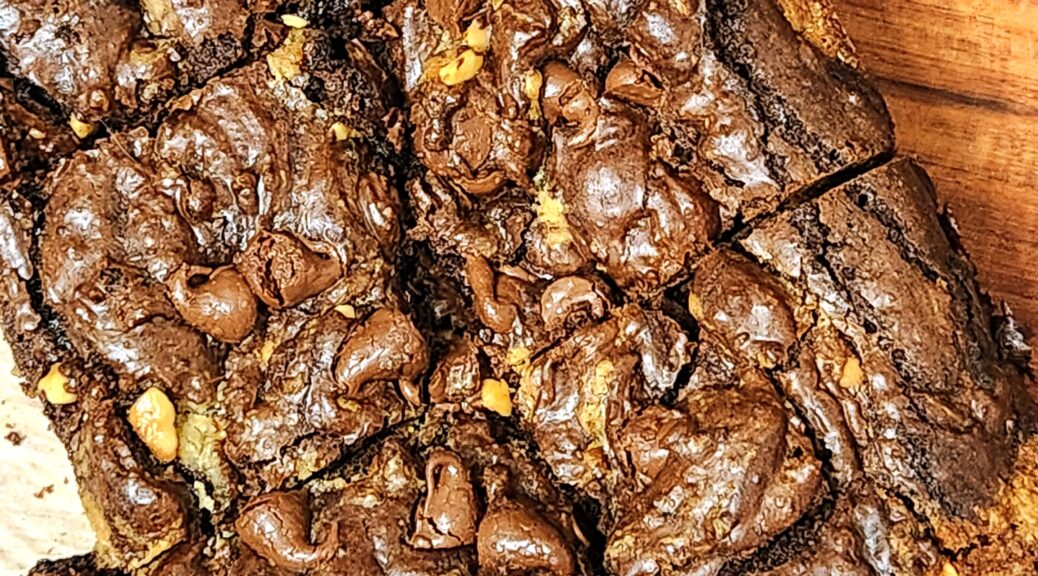 Peanut Butter Swirl Brownies
Peanut Butter Swirl Brownies
I was never a huge lover of brownies…
… until I found a recipe online many years ago that was really yummy. I made it the first time as written. And then I tweaked it for high altitude… and then I tweaked it some more, made more adjustments and added my favorite black cocoa powder and then added a peanut butter swirl. Holy moly, my new favorite brownie recipe was born.
This is the easiest brownie recipe! The most difficult thing is melting the butter and having patience to let it cool for several minutes so it doesn't cook the eggs when you combine everything.
I love adding Black Onyx cocoa powder to all my chocolate baked goods. It's rich and adds the most wonderful "Oreo chocolate" flavor to your bakes goodies. I even like adding it to my hot cocoa and chocolate frostings. Pro tip: Never add more Black Onyx than 1/3 of the total amount of cocoa powder. Too much Black Onyx can make your chocolate goodies bitter and cause gastric distress.
Measure out all your ingredients and have it all ready to go because you want to work quickly. As the butter cools in the brownie batter and the peanut butter mixture sets up the doughs can get a little thick and harder to work with. I used crunchy peanut butter in my brownies because I like the added texture. Brent generally doesn't love nuts in his brownies, but he seems to like crunchy peanut butter, so win! Feel free to use creamy if that's your jam.
This brownie batter is VERY thick. Drop 2/3 of that beautiful dark brownie batter into the bottom of a parchment lined 9×9 baking dish. (I prefer metal.) Press the batter into the edges of the pan and even it out a bit. Don't worry about it being "perfect"… it's gonna get messed up shortly.
Gooey chocolate,
Sweet indulgence, pure delight,
Brownie's tempting bite.
Next drop spoonfuls of the peanut butter filling on top of the brownie batter. Then top with the remaining brownie batter and use a chopstick or end of a spoon to swirl around the two doughs. Top with the milk chocolate chips as desired.
Pop these beauties in the oven and bake for 40-45 minutes. For gooey-er brownies bake for 40 minutes. For firmer brownies bake up to 45 minutes. For best results cutting the brownies let them cool 10 minutes before removing from the pan and cutting. Enjoy with ice cream and chocolate sauce!
ENJOY!
Erin's Peanut Butter Swirl Brownies
Delicious and rich chocolatey brownie with milk chocolate chips and a peanut butter swirl filling. This recipe was created at high altitude (6,300 ft), but it will work at lower elevations, too.
Equipment
Brownie pan, 9' x 9"

Parchment paper
Ingredients
Brownie Batter
3/4

Cup

Butter, melted and slightly cooled

1

Cup

Semi Sweet Chocolate Chips

1

Cup

Sugar, granulated

3/4

Cup

Dark Brown Sugar

1

Tbs

Vanilla extract

3

ea

Eggs, large

1/2

Cup

Dutch processed cocoa powder

2 – 3

Tbs

Black Onyx cocoa powder

1.5

Cups

AP Flour

1/2

tsp

Kosher salt

1/2

Cup

Milk chocolate chips
Peanut Butter Filling
3/4

Cup

Peanut butter (creamy or chunky)

2/3

C

Sugar, granulated

1

ea

Egg, large

1/4

tsp

Vanilla extract

1

pinch

Kosher salt
Optional
Chocolate syrup and vanilla ice cream
Instructions
Peanut Butter Mixture
Combine peanut butter, sugar, egg, vanilla, and salt. Whisk well. Set aside
Brownie Batter
Sift together the cocoa powders, flour, and salt, set aside.

Melt the semi sweet chocolate chips in a microwave safe container for about 45 seconds. Stir and microwave another 15-30 seconds until melted. Stir again an let cool slightly.

Combine the melted (and cooled) butter, sugars, and eggs in a bowl, whisk well.

Whisk the melted chocolate into the butter, eggs and sugar mixture and stir until well combined.

Put 2/3 of the brownie batter in the bottom of a parchment lined brownie pan. (I used a 9 x 9 pan. If you use a smaller pan the brownies will be thicker, and if you use a larger pan they will be thinner.)

Drop the peanut butter mixture across the top of the brownie batter.

Drop the remaining brownie batter on top of the peanut butter mixture. Swirl with a knife.

Place in a preheated oven and bake for 40-45 minutes.

** For gooy-er brownies bake for 40 minutes. For firmer brownies bake up to 45 minutes.

Let brownies cool 10 minutes before removing from the pan and cutting. Enjoy with ice cream and chocolate sauce!
Notes
This recipe was developed at high altitude at 6,300 ft elevation.  It will probably work at lower elevations since there is no leavening other than the eggs.
I purchase my Black Onyx cocoa powder at Savory Spice Shop but you can purchase it also on Amazon.  This is the best black cocoa powder I have ever used and gives baked goods and hot cocoa a bit of an "Oreo" chocolate flavor.  Pro tip: When using Black Onyx cocoa powder you can mix it in with regular cocoa powder but you should only substitute no more than 1/3 of the total cocoa called for in a recipe. 
Black Onyx Cocoa Powder https://amzn.to/3CvBjUS