Photo Roundup: Creative University 2010 – Make-N-Takes
Photo Roundup: Creative University 2010 – Make-N-Takes
I'm finally getting around to sorting through my photos from Creative University.   Let me just tell ya… I had SO MUCH STINKIN fun!!! n (Ok, well Stacey and I missed the "stinky" part because the Friday group had the water run out on them and nobody got showers…)  We made some projects and crafty goodness on very little sleep. LOL!  Here is a brief photo summary of the projects we made.
*************************************************************

Wall Hanging w/Elegant Paper Flowers
~ designed by Denise Anderson-Turley
This beautiful project that Denise designed was fast and easy to put together … that is… until… we had to make…. THOSE CRAZY FLOWERS.  LOL!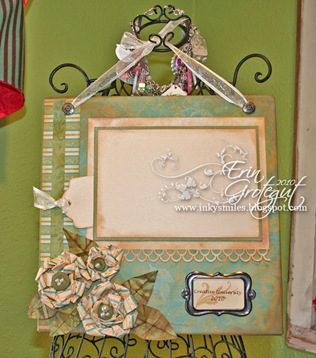 That little tag on the left slips in and out for hidden journaling.  The papers are all distressed with Tim Holz's distress ink in linen and tea stain (I mixed them up).  I also spritzed some shimmery schtuff along the top left corners and the bottom right section of the artwork.  The flowers are also shimmery.   The leaves of the flowers are inked to death with Tim's tea stain distress ink. (Denise's original piece was not as inky/messy/aged as my piece.  I just wanted it shabby.)
 
The flowers are crumpled "paper ribbon" flowers that are hot glued as you go along.  I burned my fingers and got annoyed with the hot glue so I gave up and went back to my seat and used my Helmar 450 glue.  It dried fast, but did not burn or dry TOO fast (like cooling glue). It took me a while to get the technique down and once I did the project flew right along. 
I need to get a "class" photo to put on this piece o' art. 🙂 🙂
*************************************************************
Vintage Songbird Necklace
~ designed by Bren Yule
OOOH… a girl can't go wrong with a JEWELRY making class!  Yeah babeeeee!   Bren designed this BEAUTIMOUS necklace using a key fob and some crafty supplies including rhinestones, a paper flower, a bird "brad", and some vintage style music paper.
Before and After….
*************************************************************
Watercolor Pencils Cards & Scrapbook Layout
~ designed by Nona Davenport
I haven't finished mine yet, but here's Nona's.  Mine is sitting here on my desk waiting for me to create a title and stick some photos on it… hahaha…like I ever stick photos on my pre created layouts. I'm so bad.  I need to develop some CU pics first!!!  I took some liberties with making mine …well, MINE.  I changed up the layout a bit and added some shimmer to it.. cuz all ROCK STAR layouts need some shimmer!
My cards are also half done.  I am trying to get everything finished up tonight so I can have everything DONE!  I should have finished everything AT CU, but we were having so much fun visiting and doing other crafty things, too. LOL!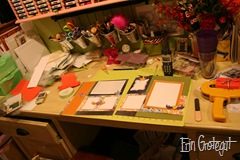 See… it's sitting there… waiting.. for you know who.  But I'd rather take a shower and hit the sack than finish it up tonight.    The cards are in the little baggie in the very far left corner…. also waiting… poor little cards.
*************************************************************

Spring Banner
~designed by Tresa Black
OOOH!!! This banner is so fun and sparkly and springy and just delightful!  We made each "block" at different stations over a period of two days.  There wasn't anything "difficult" about this project, just a lot of steps on each block and LOADS of glitter and glittery goodness to let dry. LOL!
I'm going to hang this in my front room for some SPRING cheer tomorrow!
*************************************************************
"Unofficial" Crocheted Necklace Class
~ held during free time by yours truly
Several ladies wanted to learn my crocheted necklaces so I told them I'd teach them during our free time at CU.  I was surprised how many actually brought their supplies and were eager to make the necklaces.  It just made my day!!!
Here we are learning and playing: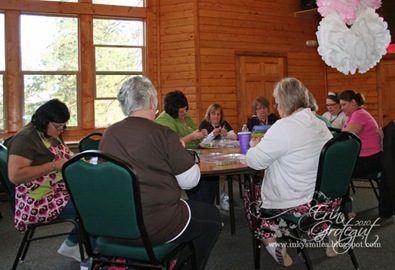 Thank you to Wendy Tunison for the photos!  She's my Paparazzi girl! LoVe HeR!
That's Connie Dryer in the above left photo.  She went hog wild making crocheted necklaces…  She holed up at a nearby table when we were done and made SEVERAL more crocheted beauties!  So glad to get ya HOOKED on another hobby!! 🙂
That's it for the first Photo Round Up from CU… I will post more soon! 
~Inky Smiles!
PS.. Tuesday (March 16th) is a blog hop for Skipping Stones Design and I have something to give to a lucky somebody!  See you Tuesday!