Rainshowers & a Few Baby Book Pages
Rainshowers & a Few Baby Book Pages
We've hit MONSOON season here in Utah.  The weatherman has said we'd have "monsoonal moisture" the last couple of days and today… well, yesterday we had gale force winds and a doozy of a rainstorm and this afternoon we've had even more incredible gale force winds and one heck of a hail and rainstorm.  This wasn't just a downpour… it was an angry rain… it came down and pelted the flowers and plants in my garden and caused a great river to flood our gutters.  It was BEAUTIFUL!  There's almost nothing I like better (weatherwise) than a GOOD angry rainstorm with loads of lightning and thunder.  Today's storm only lasted a short while, but it was amazing… and I'm hoping those black clouds up north make their way down south… 🙂
So since I had a few minutes today I thought I'd share a couple of photos of the pages from the big baby book I was working on for the last while.  The book was shipped and Nikki finally received it and told me she loved it and that it was the coolest baby book she's ever seen. (*BLUSH*)  I'm relieved.. I've never made a baby book before and was totally freaked out about it.
She wanted a monkey themed book and sent me a few papers to work in.  I think the hardest part was dreaming up the layouts.  I looked around for baby pages that I thought I could copy, but nothing was working so I started drawing sketches on papers.
Here's a snapshot of one of my piles of sketches: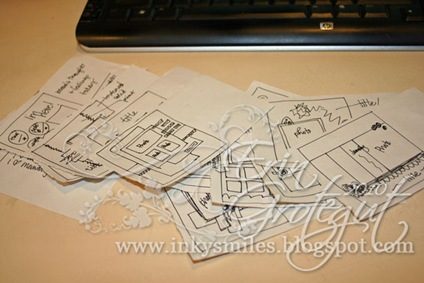 The baby book pages are not very complicated, just lots of thought put into details and LOTS of machine stitching and little monkeys with googly eyes.  I think the machine stitching and monkeys took the majority of my time.  I was learning to use my Cricut Expressions machine at the same time I was trying to put this book together.  Talk about frustrating. LOL!  I finally figured out the Real Dial Size button should not be on when cutting layers. LOL!  For some reason I thought I had the Paper Saver Button selected. HAHA!  For what it's worth.. if you have children or not, the New Arrival cartridge is worth EVERY STINKIN COPPER PENNY you spend on it whether it's on Ebay (where I picked it up) or some other store.  I have used the heck out of this cartridge (just having fun with it and not necessarily all in this book)!
NOTE: The creamy yellow papers are meant to be "place markers" for photographs.  They are lightly tacked in with a bit of adhesive and are meant to be gently plucked off and used to cut the exact size photo that goes in that space.  I figured it was the easiest way to help a non scrapbooker cut their photos to fit exactly.
ANyway, enough rambling… I've got to go locate my pickle recipe and canning supplies so we can get ready for bottling some dill pickles tonight after dinner and a wedding reception. FUN!
Here's  snapshot of the stack of finished pages.  I think there were 30 total pages including one that she bought on Ebay as her monkey inspiration page.
Here's a sneak peek of the first page (I posted this on facebook a while back):
Here's the very first page (I'll share the rest in no particular order).  I love the stork delivering a monkey.  The original artwork on the cartridge literature had him delivering a "baby", but I thought the monkey would be more fun 🙂  The stitched ribbon is turning into one of my specialties.  I just love the bunched up, stitched ribbon. It's fun and easy to do!
Here's a page for baby and her bff, a beagle named Brandy. 🙂 Every baby who has a pet in their home just HAS to have some photos with it! I loved this "bff" paper (don't remember who makes it, though, lol!) and loved the stripes with it.
And a couple of detail shots:
Here's another fun and cheery page for "baby's mealtime" of choice.  How many of us have photos of us as wee ones with our face planted squarely in a dish of "pasketti" after completely crashing out? Tee hee!   I LOVED these monkeys… they are seriously fun and cute and I couldn't resist doing googly eyes on all of them and hair on a couple of them.  The hairs are Maya Road fibers.  The rub ons are .. I can't remember, but really fun. LOL!
And a couple of detail shots: 
I've gotta finish editing the rest of the pics and will do it as I have time here and there.  Thanks for checking in with me today!
~Inky Smiles!