Scrap My Scraps Challenge: Card Set #4
Scrap My Scraps Challenge: Card Set #4
I'm here sitting at the computer having finished Card Set #3 and thought I'd better get a couple of posts scheduled since I have some energy and the next few days are going to be busy ones.   My friend, Lisa, and I are throwing a baby shower for our friend, Kim, who is having surprise baby #3… the youngest is 8.  Anyway… Kim is super generous and gave away all of her old baby stuff… so we figured we'd better help her get all stocked up again.  I've got lots of cleaning to do and some yard work to take care of.   Thankfully my hottie hubby is helping with the big stuff. 🙂 Yay for hottie hubbies!
Here's card set #4. 
The "RULES" were simple:
1. Create one card from each layer stack thingy.
2. Use ALL of the pieces that go to each card.
3. Use any stamps to complete cards.
4. You may add one piece of extra cardstock to the card and any extra embellishments.
(More like guidelines, anyway….)
The Players:
Alisha Trussell
Jeanne Tomshack
Kathi Carlson
The Original Layer Stack Thingy:
I really love the colors in this pack.  They are bright and bold and fun.
My Original Card:
…aka el boringo card….  I could have spruced up that sentiment a bit or given it some weight to anchor it mo bettah on the card…. 
Jeanne's Card:
One of Jeanne's signature items is butterflies.   You can find them in her digi art, card making, and even her clothes!  I love how she popped up their wings in layers and glittered the edges and bodies.  The dots on their wings match the embossed dots on the kraft colored cs on the card base.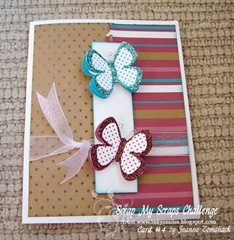 Kathi's Card:
I love the little bird on a branch image that Kathi has stamped and colored on this card.  She matched the colors of the striped paper perfectly! She also faux stitched the edges of the white focal piece cs and the edge of the kraft cs.
Alisha's Card:
A little gift anyone?  Alisha's card reminds me of a gift, all wrapped up and neatly tied with a bow.  The sentiment is random stamped in the patterned paper and cute little flowers adorn the "tag".  That's CTMH white ink on the kraft cs… I thought it was Stazon… it pops so nicely!
There are two more sets coming your way!  Stay tuned 🙂
Inky Smiles &  enjoy your Father's Day weekend!