Skipping Stones Design Sketch Tuesday: Blog Hop, A Little Candy & SSD020
Skipping Stones Design Sketch Tuesday: Blog Hop, A Little Candy & SSD020
Happy Tuesday, blogging friends!
Welcome to Skipping Stones Design's Blog  DT  Blog Hop to celebrate the release of two new stamp  sets, Birthday Donuts and Whispering Wings.  If you just happened upon my blog today, you'll want to go back to the beginning at Skipping Stones Design. You should have arrived from Kimberly Crawford's blog. 
Combined with the blog hop today, it's also Skipping Stones Sketch Tuesday which means the Design Team is showcasing another great creation from Kimberly Crawford. We'd love for you to play along with the sketch. Just remember to use the keywords SSD020 if you are uploading to any online galleries or link your card at the Skipping Stones Blog. We'll be looking soon for Guest Designers so you never know….
Here's this week's sketch, SSD020:
I flipped it and rotated it in PSE….
I had all sorts of ideas for this sketch, but I had to reel it in a little due to time and pain tolerance constraints (but that's a another story) so I sat down after dinner and played around with the  Birthday Donuts set and some sample papers from Sassafrass Lass.
I really wanted to use the Birthday Donuts for this card, but I didn't want to color another card for a few reasons:  1) I don't have the "right colors" in watercolor pencils 2) I don't have a watercolor penbrush thingy to use my brown ink pads, 3) I have just one brown Copic, and 4) I didn't want to color. LOL!
SOOOOOOO… I decided to play around with some paper piecing using my favorite donut stamp from the set.
Here's what I came up with.
And here's the same image very roughly edited with a different background, thanks to PSE… It's fun to see how different colored backgrounds change how a piece appears.
 
Anyway… back to today's bidniss… Since one of my favorite type of donut is a "cake" donut I decided to make the donut out of a chocolatey brown felt and then frost it with some delightful pink frosting.  I stamped the image onto some scrap cardstock and cut it apart, using the pieces as templates for my donut and frosting.  The candles are stamped direct to some scrap Sassafrass Lass paper and then lit up with some Crystal Effects and yellow glitter.
 
I just wanted a chunky, funky card this time so I layered up chunks fo my fav paper pieces from Sassafrass Lass' newest release, some pink tulle, an itty bitty zipper I've had for ages and never knew what to do with and a big tag made from some SL paper.  I like to think the zipper is keeping the secret of how many birthdays and donuts I've really had. *wink*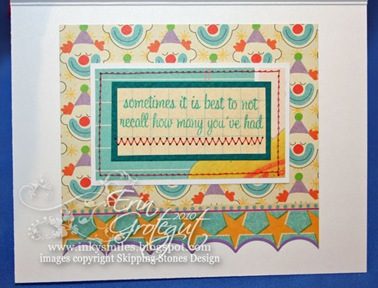 And even though I don't usually decorate the inside of cards I thought this one needed it so I layered up some SL papers and stamped a sentiment.
Thank you for stopping by today! I hope you had a pleasant visit!  Please continue on this hop by visiting Kandi Phillips' blog next!
PS… I've got some candy to share today!  Heather sent me a brand new copy of Funny Coffee Vol I to share with some lucky winner this week.  Here's how you can win:
* What is your favorite "secret" treat?   Leave a comment on this post and tell me and I will draw a winner on Friday, April 16th. 
Inky Smiles!
Sweet Supplies:
Stamps:  Skipping Stones Design Birthday Donuts
Ink:  CTMH Ocean, Hollyhock, misc yellow chalk ink
Paper:  Various scraps of Sassafrass Lass new release pieces
Misc:  Doodlebug glitter, Crystal Effects, Homemade Glimmer Mist, Zipper, Adhesive, Tulle, AC Foam Tabs, misc Archivers CS, thread, Bernie the Bernina.