Skipping Stones Design Sketch Tuesday: SSD019 – Whispering Wings
Skipping Stones Design Sketch Tuesday: SSD019 – Whispering Wings
Happy Easter, Friends!  I hope each of you had a pleasant and blessed Easter yesterday!  Brent and I enjoyed a peaceful and quiet day together.  We listened to LDS General Conference and visited with each other.  It's been a long week and so it was nice to just chit chat and hang out together. 🙂  Brent made the most DIVINE chicken for dinner… Parmesan Crusted Chicken with a Sage Butter sauce and roasted rosemary garlic potatoes on the side.. nom nom! 🙂 I do have to admit that I am one spoiled girlie when it comes to the hubs cooking.  He's fantastic!
This month at Skipping Stones Design we are releasing two fun sets:  Whispering Wings and Birthday Donuts!! These are both darling, darling stamp sets and I can't wait to make some cards with Birthday Donuts!
Today is also our first April sketch.  This month's loverly sketches come from Kimberly Crawford of "For The Love of Paper".
Our first sketch this month is a fun one!  When I saw this sketch I thought "RUFFLES" but then  I had to figure out how to work a stamped image into it.. lol!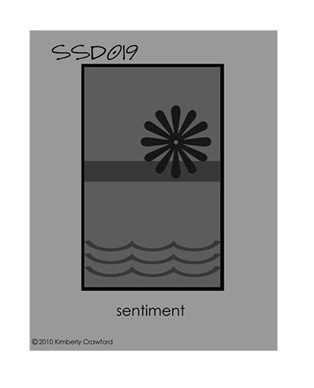 I took the sketch quite literally this week and didn't make any "adjustments" other than moving the sentiment.  I played around a bit with the new stamp sets that Heather is releasing this month and this is what I came up with:
I stamped a dragonfly from Whispering Wings  onto white cs and colored with watercolor pencils and blended with odorless mineral spirits.  The wings (pink part) are covered in Crystal Effects and I highlighted the body and wingtips with a clear glitter Sakura gel pen.
This last week I've been playing around with some flowers for various projects and cut up an old pair of blue jeans.. I couldn't resist making a flower from the denim and used the bottom hem of the legs to make a "ribbon"  The pearls are pulled off of a bit of lace… lots of "upcycling" on this card 🙂
I've been having issues with my photography skills lately and have had a doozy of a time getting the right lighting. ARgh.  ANyway… I snapped a couple of shots to show the details.  Here's some better close ups to show the details:

The "sky" area round the dragonfly is pounced in ink with a sponge and the wings have gradiated coloring.
Here you can see the irridescent splotchiness on the body of the dragonfly.
Creative Bits:
Stamps:  Skipping Stones Design Whispering Wings
Inks: CTMH
Miscellaneous:  Odds n ends papers, upcycled blue jeans, pearls, Fiskars border punch and hole punch, watercolor pencils, odorless mineral spirits, misc adhesive.