Skipping Stones Design Sketch Tuesday: SSD011
Skipping Stones Design Sketch Tuesday: SSD011
Happy Tuesday ya'll!
Today we're playing with another fun sketch from  Belinda Chang Langer of Bleu Bella Paperie.
Here's today's sketch:
MMMM… nice and simple… gives me lots of room to play.  And very few rules to break, if any…  well, I did take the liberty to leave off one of those black dots…
I am so totally head over heels in luuuuuurve with Skipping Stones Design's Dandelion Dreams stamp set that I had to use it again today. 
Here's the stamp set again:
Isn't it just DIVINE??  Oh my goodness.. I just want to stamp silhouettes for the rest of my life! 🙂 There's something just so elegant and romatic about a black silhouette.
The card I made today really threw me for a loop. I had this IDEA in my head and was trying to get it to get on the paper the same way I saw it in my head… it took a while and took some thinking, trying, and shredding before I got what I wanted.
I wanted this card to be somewhat in the "Primitives" theme.. to have kind of an old country feel to it.  I created a basket.  I even wove the paper strips. Perfect!  Then I added a handle.
Ok, now what?  LOL!
I built the card around the basket and the idea that I was DEFINITELY going to use the Dandelion Wishes stamp set.  I had more Basic Grey cardstock to use up, but hey, it's not PINK or YELLOW so it's sorta new…hahaha!  I'm seriously trying to use up my stash cuz I'm doing some serious drooling on some new stuff.
Here's my little piece o' art for today: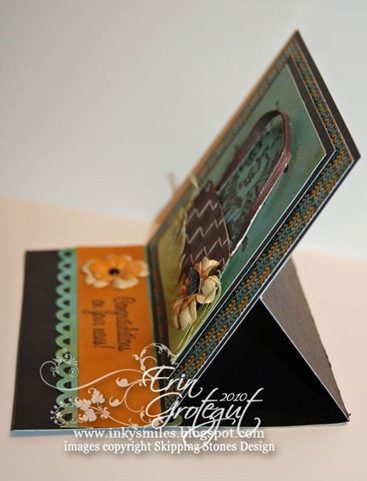 The flowers, butterfly and sentiment (which comes from Cupcake Cutie, by the way) are all stamped in black StazOn ink.  I needed a good, thick, rich ink to stamp the flower silhouettes in and didn't want to emboss this time.
I stamped one of the butterflies onto black cardstock and carefully cut it out and then colored it with a Sakura clear glitter pen.  On black cardstock it "glitters gold".. kinda neat!  Then I adhered it to the Prima flower with the tiniest dot of Liquid Glass and bent the wings up.   I know that Primitive stuff doesn't really have a lotta glitter… but, well, I needed it bad… like some people need Diet Coke or Pepsi… I need glitter.. it runs in my veins.
Oh hey, there's the other black dot… it landed on the inside of the card and I just left it there on those flowers cuz it looked nice 🙂
~Inky Smiles