Skipping Stones Design Sketch Tuesday : SSD07
Skipping Stones Design Sketch Tuesday : SSD07
Good morning my Inky friends!  It's that time of the week again to play with sketches.  I spend the weekend "sitting around and laying around" because I had the worst stomach ache in ages.  I did a TON of crafting. I mostly played around with jewelry and made some charms for a swap I'm in plus some extras and got brave and made a complete linked bracelet loaded with baubles and beads from scratch.  (Photos coming in future posts.)
But anyway.. let's get on with this week's sketch so I can go heat up some leftover Baked Potato and Ham soup and whip up some biscuits to go with it before my sweet husband gets home from work.  (By the time you read this we will have eaten it and be at work again. LOL!)
Here's this week's Skipping Stones Design sketch from Amy of Pickled Paper Designs.
I tried to lock those little devils away for today's sketch cuz my idea WAS going to work with the sketch, but then… well.
Yes, I rotated it again.  Couldn't resist.   BUT, I changed NOTHING else 🙂 I was a good girl today.
I made a rule for myself for crafty purchases for 2010.  I have to seriously start using up or give away my old papers.  I'm starting to try to use them up first.
So out came the Basic Grey paper stash cuz I LOVE BG papers and can almost always find something to work together. Hahaha!
Guess what?  I found MOST of a 6×6 Bittersweet paper pad left.  Yah babeeeeeee, that will work!
Here's today's card: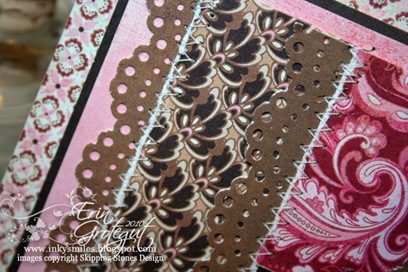 I cut a few strips of Bittersweet paper and used a CTMH edge distresser to rough up the edges of the papers to look like a frayed fabric edge.   I punched the edges of some brown paper with a Martha Stewart border punch, lined them up on some pink paper and then stitched them down with a zig zag stich (Bernie was much happier with me since I used regular cotton poly thread this time… )  I popped up the main square layer and the sentiment layer with AC foam dots for added dimension. 
The bow is made from SU Chocolate Chip ribbon.  I LOVE SU ribbon.  I had a pin laying on my desk and thought it would look cute poked into the bow, so in it went! 
And there you have it, today's sketch and another out of my box card!
Hope you have a marvelous day!  I'm off to work to work on year end accounting.. fun, fun!
~ Inky Smiles!