Stained Glass Butterfly on the Finished Project
Stained Glass Butterfly on the Finished Project
Ahhhh I totally got buried in projects (not all crafty) last week and forgot to post this. I was cleaning up my camera card this morning and found these photos. Oooops! Please forgive me!
As promised in this post, I am posting what I did with my stained glass butterfly. I love making cute, altered goodies for my studio and for other people. When I was sitting at my desk creating this little guy, there was a plain and boring jar of tiny glass beads staring at me from the back of my desk…. which gave me an idea.
So I pulled out some American Crafts foam tabs and a couple of flowers from my little flower tin and started messin' around. I used a couple of drops of Liquid Glass (aka Diamond Glaze, Crystal Laquer, etc) to adhere the butterfly to the petals of the flower.
Here's what I came up with.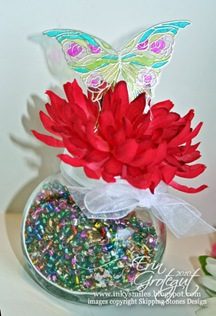 I think it jazzes up the jar, don't you? I just put it on the top of my InkStak and it looks lovely up there all sparkly and colorful! Oooh la la!
~Inky Smiles!