Skipping Stones Sketch SSD08: SEW CUTE!
Skipping Stones Sketch SSD08: SEW CUTE!
Good morning friends!  Or, good afternoon, or evening, or middle of the stinking night, whatever time it is that you've happened upon my blog.
I got a bunch of goodies this weekend in my mailbox from Heather at Skipping Stones Design.  Ahhhhh fat free, calorie free CANDY!
One of the delights that I received was the Skipping Stones Design "Stitched Stamps" stamp set. 
Isn't it DARLING?
Ok so moving on… today is SSD's 8th sketch, our 3rd from Amy Sheffer. Here's our sketch:

Brent already gave me the "whatfor" for not following the rules completely again.  Here's how our discussion went:
Erin: Hey love bug, wanna see my card? (Interrupting him watching Star Trek and folding laundry.)
Brent – looking at the card and then the sketch, and then the card again.
Brent: Babsie, you left off a whole piece.
Erin:  No, sorta, well ok, yah, maybe I did.
Brent:  You're breaking the rules again.
Erin:  Yah, so, uhm, I was sorta messing with the card and jiggled it a bit and that back circle (pointing at the back circle on the sketch) sorta fell down behind the front circle.
Brent: You nerd. But that's not the whole sketch.
Erin:  Yes it is, the little back circle is the scallops behind the little front circle, see…. (pointing at the scallops on the card)… it's down behind the front circle.  It was already on it's way anyway….
Brent:  You are so silly. (Back to watching Star Trek and folding laundry.)
I had a lot of fun playing around and making this card. Here's what I showed Brent initially: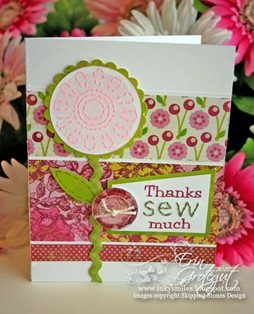 I like it.
And then I went back and started playing around and added another layer to the sketch…. but it's not round…
I like it, too.
I embossed some lines with my Score Pal.  Gosh I love that little guy.  I get nice, even score/emboss lines without going thru the paper with a stylus or blade.   I cut out some strips of designer paper from Basic Grey and adhered them between the score/embossed lines.
Here are some close ups that I also like.

I created the flower by stamping a shadow with the reverse side of the stamp.  Did you know you could do that? Make a custom fit shadow using the backside of the stamp image?  I love it!  I inked up the back of the stamp and then stamped off the first generation of ink onto some scrap paper.  Then I stamped the second generation of ink onto my bright white cardstock.  Then I cleaned my stamp and flipped it back over on the block and loaded up the image with some Versamark ink and stamped it onto the shadow image, sprinkled with CTMH pink embossing powder and heat embossed.  I cut it out with Nesties dies in my Cuttlebug.
Have you ever hand sewn on a card?  I've sewn with my machine but never with a simple needle and thread.  This sentiment comes printed all neatly in stitched lines and would look awesome just stamped on, but it was SEW screaming at me to stitch it, so I raided the ol' cross stitch supplies and went to town.  I stamped the word "SEW" in a very light grey ink and then to prevent bending of the cardstock when poking with a needle I pre punched the holes with my paper piercer.  I did a simple back stitch to sew up the letters. 
The button embellishment is made by cutting out circles of patterned paper and glueing them to the back of clear buttons.  I picked up a big bag of clear buttons several months ago at Archivers with this technique in mind but this is the first I've actually pulled them out to use them. LOL!   The buttons are tied together with crochet thread and glued down with AC foam tabs.
~Inky Smiles
Supplies:
Stamps – Skipping Stones Design's Stitched Stamps
Inks – CTMH Vineyard Berry and Crystal Blue, Grey Flannel (2nd generation stamped for ultra lightness), Baby Pink & Garden Green
Papers – Basic Grey
Miscellaneous" – crochet thread, embroidery floss, ric rack, adhesive, paper piercer, liquid glass, misc clear buttons, Baby Pink EP (CTMH), Sakura glitter pen, Nesties scalloped circle and classic circle, Cuttlebug.