Thoughts for Thursday: Happy Pioneer Day!
Thoughts for Thursday: Happy Pioneer Day!
Today is Pioneer Day, a holiday celebrated in Utah, commemorating the arrival of the Mormon Pioneers in the Salt Lake Valley on July 24th, 1847. The Pioneers had quite the journey getting here from the east. Some rode in wagons and some walked with pull behind handcarts. When I think of how they wore out the soles of their shoes, lost loved ones, and endured months of agony I am grateful for the modern conveniences we have today. I am also grateful that Brent's ancestors (in addition to being a direct descendent of William Bradford of Plymouth Plantation, part of his family were stranded with the Martin & Willie Handcart company) were part of the group of people who came across the plains…. I will not complain as we are driving across the barren landscape of Wyoming and western Nebraska on I-80 on our way to Iowa in my comfy air conditioned/heated, soft seated automobile anytime soon again…
Brent had to work today so I spent the morning with my friend, Trish, and the Mini C's up in Spanish Fork at the Fiesta Days parade and then with Trish's family (her parents are Brent's great aunt and uncle) for their annual July 24th picnic. Trish's mom always serves Albertson's fried chicken, smashed spuds and corn on the cob. This year Ellen shook it up a bit and Trish brought coleslaw instead of sm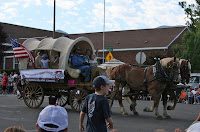 ashed spuds. It was really fun to experience another family's family tradition and made me a little homesick for my own family way out in Iowa.
What is something that you are grateful for that your ancestors gave you? And, what is a family tradition that you and your family celebrate?