Thoughts for Thursday – Merry & Bright
Thoughts for Thursday – Merry & Bright
Last night, as I was laying in bed after a LOOOOOOOONG day of work (I have to go back today to finish up some accounting) and a super long evening of Christmas shopping with my sweetheart, I was thinking, "What on earth am I going to talk about for a TFT tomorrow???" Then this am I woke up and checked my email and the Foundation for a Better Life (FBL) saved my tired bum again! YAY! This cool little quote was waiting for my in my inbox and it's perfect for a piece of art I've been working on and can't wait to show you all!
" Trust that still, small voice that says,
'This might work and I'll try it.' "
– Diane Mariechild, author, speaker
Sometimes I think that we doubt that little creative voice within us. Initially we have this GREAT idea… but then we think, "nah… no way.. I can't do that" or " it's not gonna work" and we don't keep trudging through the creative process. I know that quite often I get frustrated and annoyed if something isn't working how I think it should and just pack it up and quit working on the idea. This time I kept on trudging…. and although I didn't reinvent the wheel or anything like that, I'm excited about it, another fun and out of my box project. I used some elements of a really fun Bind It All project that I will show you later this week.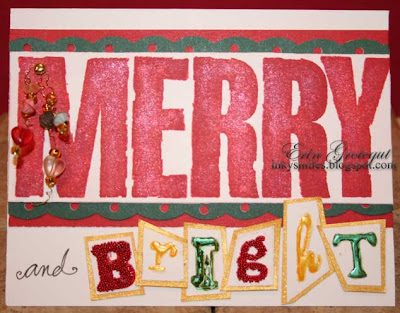 I think I mentioned previously that I have discovered Perfect Pearls and I am very much in loooove with them! I made this card for a friend last night. I wanted something merry and bright and cheery. I think I accomplished merry and bright.. Tee hee!
Perfect Pearls are sooo awesome! You can mix them with a tiny bit of water and use as a "water paint" (which I did over the Liquid Glass on the r, i, h, t) or brush on to wet ink (which I did on the MERRY) and then spritz with a tiny bit of water which will "set" the pearls. I also "water painted" the edges of the Honey (CTMH) card stock that the BRIGHT letters are mounted on. I love how the Perfect Pearls transform the card stock to a metallic card stock.
I strung plastic and glass beads (CTMH – red, white, green; generic – yellow) and 32 gauge gold wire and "hung" the strands from a brad.
Supplies:
Cardstocks, Inks, Liquid Glass, Beads – CTMH
Delightful Alphabet & Rustic Alphabet Stamp sets – CTMH
ATG adhesive – Scotch 3M
Perfect Pearls – Ranger Ink
Glass micro beads & glass beads – misc. vendors.
Scalloped scissors and hole punch – Fiskars
Handwritten Font – Yours truly