Time for a Random RAK
Time for a Random RAK
OOOH, I think it's time for a RAK.
Here is how we will play:
1.) Post a pic of your wildest hairstyle somewhere and leave a LINK (URL) to the photo in your comment on this post.
2.) Tell us about your greatest "hair adventure"….
3.) Guess what color I put in my hair on Thursday when I got my hair cut & colored.
Complete all three items and leave your replies on this post and I will post a winner on Monday.
Inky Smiles!
Erin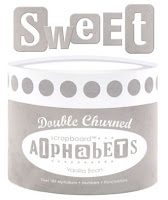 OH… PS… the prize is a container of Double Churned Scrapboard Alphabets – Vanilla Bean (naked chipboard). I've got a couple left and will award one to the winner of this RAK.
Amaryllis and Liz – SHH! no sharing…. you already know the answer 😛