Tradition! The Riley Tree
Tradition! The Riley Tree
Today I am grateful for my sweet friend & client, Georgia White.
Many years ago a little boy (who lived across the street from Georgia) named Riley Thayer fell into his parent's hot tub and drowned. For the past 8 years I have been blessed with the opportunity to do something really special with her to honor little Riley.
Each year Georgia shops for toys and stuffed animals and books and fun things throughout the year and on the Monday before Thanksgiving we load up a pre-lit Christmas tree and drive to Primary Children's Medical Center in Salt Lake City.

For the past several years we've set up the tree on the same unit, the Neuro Trauma children's unit. We stuff animals and toys and coloring books and all sorts of fun items for children into the branches of the trees and then tuck in bows to fill in any holes.
Left to Right: Me, Lindsay (G's granddaughter),
Dayna (my secretary/coworker), Georgia, Melanie (G's helper).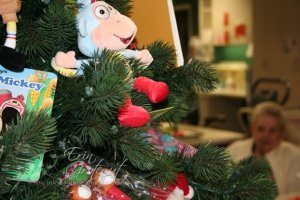 There are usually so many toys and goodies stuffed in the tree that we don't need tons of bows & this year was no exception.
There are many children on this ward every year when we go up and inevitably there are a couple who are coming and going from rooms. (We are not allowed to photograph them, even with parent permission.) Some years there are even children who get to go home while we are there and we let them choose a toy from the tree to take with them. This year there was a small boy, maybe 2.5 – 3 years old who was wheeling back to his room in the little wagon his mom was pulling. He was propped up with blankets and was wearing a back brace and just did not look happy at all. His mom picked him up and walked him over to the tree and started showing him all the fun things on it. We all noticed when he saw the tree, and then when his little eyes locked on Sponge Bob and then how his little face lit up when he saw Patrick the Starfish on the other side of the tree. I could not stop the tears from welling up to see the joy on that little boy's face. He went on his way with a little Sponge Bob nestled next to him in his wagon.

Marie Hendrickson (PCMC Foundation Office) & Georgia
Thank you, Georgia for such a wonderful Christmas tradition! I look forward to doing this for many more years with you!