Tutorial: Faux Designer Paper
Tutorial: Faux Designer Paper
Creative Supplies:
DCWV Luxury 4×6 paper pad
BG Bittersweet 6×6 paper pad
Fiskars Lace border punch
Nestabilities Ovals
CTMH Inks – Grey Flannel & Garden Green
CTMH Stamps – Decorative Dainties
Designer paper…
sometimes you get this whizbang idea and you need it.  But usually, if you're like me, your whizbang ideas come at 1 or 2 am and there's no open scrapbook stores around.  (Sure there's online, but then you're waiting 5-7 days for delivery…. shush you there in the peanut gallery!) 
So anyway… you've got this whizbang idea or you're totally casing someone else's whizbang idea and you need some Designer Paper.   What do you do?  You pull out your stamps, some ink, some preprinted-wanna-be-almosta-designer-paper and you make it yourself!
I saw a card on Beate John's blog that I wanted to re-create.  I wanted to use this awesome new DCWV Luxury pad that I'd picked up at Jo's recently.  The problem was that I didn't want to use ALL shiny blingy Luxury paper on the entire card front… it needed some variance in the texture. 
So here's what I did:
Once I decided on the overall layout, I pulled out my BG Bittersweet 6×6 paper pad and pulled out the light cream sheet that was preprinted in a distressed and grungy manner.  I thought it would be super for a background for the FDP.
Step 1:   Practice stamping with your image to make sure you get the desired effect.  I wanted mine to be semi grunge/distressed but mostly stamped.  It worked for this stamp to use the piece of foamy stuff that comes with the CTMH stamps under the paper.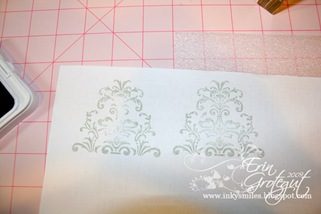 Step 2:  Practice on a piece of scrap paper… 
Then, random stamp your design on the final paper/cardstock.  Don't worry about it being completely perfect because you're going to cut up this masterpiece in a couple of minutes anyway… 🙂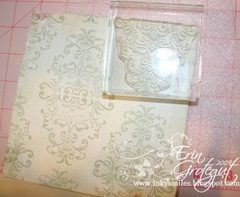 Now you have a piece of Faux Designer Paper… Or semi homemade Designer Paper.. you decide. LOL!
Step 3:  Cut your Random Stamped FDP and create your card & send to a friend or two!
Inky Smiles!