Utah Forecast…. Great, If You're A Fat Polar Bear
Utah Forecast…. Great, If You're A Fat Polar Bear
There was a headline in one of our papers yesterday… "Utah Forcast – Great if you're a fat polar bear."
See this link: http://www.sltrib.com/weather/ci_7996853
LOL! It is TRUE, TRUE, TRUE.
Yesterday morning I woke up to 4 degrees Fahrenheit AND I had to haul my polar bear bum outta bed and go to work… I would have stayed in bed, but today was my "one day a week at work"… uggggh. (This – and recovering from Wed night's church event – is why I missed yesterday's Thoughts for Thursday.)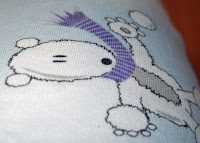 I do not know what it was this morning, but I put the dog out, let her back in, and crawled back in my polar bear cave. Today I am staying home papercrafting in my warm fuzzy slippers and fat pants. (Yes, I am a fat polar bear, but a wimpy fat polar bear, see the cute little bears on my pants? HEHE! I have blue fuzzy slippers, too, but didn't want to crawl into the closet to fetch them… PINK will have to do today… )
Inky (Fat Polar Bear) Smiles!
Erin
PS.. Want a polar bear RAK? Post a comment with a link to a pic of your feet in warm slippers or jammies and I will draw a winner on Sun night and send someone a treat from my scraproom 🙂 Ohhhh, I have a small assortment fun goodies here… 🙂