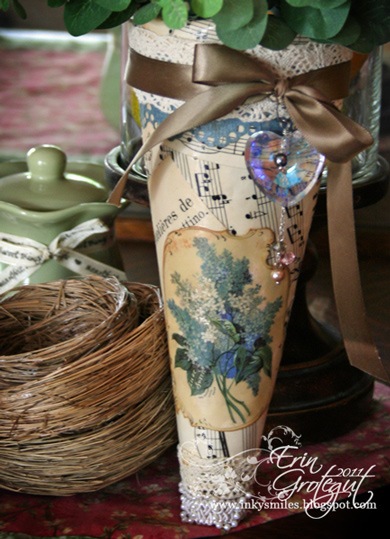 I saw an idea for a vintage cone on The Graphics Fairy blog a while back and decided that I wanted to make one, too. I'm finding myself drawn to vintagey goodness lately. Anyway, I dug out some styrofoam cones that I had stashed away in my craft closet for a Christmas project that I never got to, cut it in half, and started playing around with paper and Mod Podge.
All images are courtesy of The Graphics Fairy. If you've never been there you have got to stop in and take a gander and download some of her FABULOUS vintage images. Lovely schtuff!
I had a really difficult time taking photos today and it's been very cold and dreary today so the lighting was not all that great, so please forgive the lousy photos. I tried taking them in my studio first and then moved upstairs to the front room in hopes of some decent light. It was a little better. LOL!
Overall I like how it turned out, but I think I am going to add some off-white & bluish lilac sprigs to the top part to give it more "fluff". This little altered cone is meant to be hung on the wall and I am still trying to decide which wall it will grace in my home…. currently I'm thinking it would really pop nicely on the chocolate brown walls in my front bathroom …. hrmmmmm…..
You can't tell in the photo but each little vintage card (images printed from TGF onto white cardstock and aged with Tim's distress inks) has been glittered either on the birds or the flowers/leaves. In real life they shimmer nicely!
Bird envelope pre-glittered.
I plucked this crystal heart and jewels off of a junklace that I don't think I will be wearing any time soon…. LOVE it.
Thanks for popping by! Inky Smiles!
PS.. the feather in my hair is hanging much nicer today since the hair got a good wash, dry, and straightening. Love it!