You've Got To Start Somewhere – A Traditional Paper Layout *gasp*
You've Got To Start Somewhere – A Traditional Paper Layout *gasp*
{Scheduled Post}
Ok so don't pass out. LOL!  I PAPER scrapped last week.  Ay yi yi… I can't remember the last time I seriously scrapped a layout with paper and traditional supplies… meaning non-digital. LOL!
This layout filled two purposes for me.  I needed a paper layout for one of the art contests at Creative University  and Erin Gudge (the OTHER Erin G) at Treasured Scrapbooking was holding a Guest Designer contest for her store and pointed me in the direction of the details for the contest… so off I went to Treasured Scrapbooking and found the details. 
Here are the requirements:
1)Your layout must be based on the origins theme  (meaning, the beginnings of SOMETHING)
2)You must use at least seven flowers (can be handmade, but patterned paper doesn't count)
3)You must use at least one button and one gem/rhinestone of some kind
4)You must use at least three patterns of paper (can be included in your flowers)
5)You CANNOT use a plain CS background (you can use it as support, however)
6)You need to use at least three photos
So I went to work dreaming up a sketch in my head, then transferred it to paper and then decided on my "theme" for the layout.  I decided on doing the origins of my scrapbooking.  I pulled out a few of my old scrapbooks and snapped some photos of what was in them.  It was neat to see how I've changed over the years.
Here are the photos:
You can see how my scrapbooking has evolved over the years.  The top right photo is of a scrapbook I made in 1984.  The bottom left is from a "scrap" book I made in 1994 and the bottom right is from 2004.   I combined all these layouts in today's style of layouts (for me). 
Look closely.  Can you see the hidden journaling?
 
And the hidden birdie?
Ahh… there's the journaling.  Tucked neatly behind the photos with a ribbon pull tab that's wrapped around the back of the layout.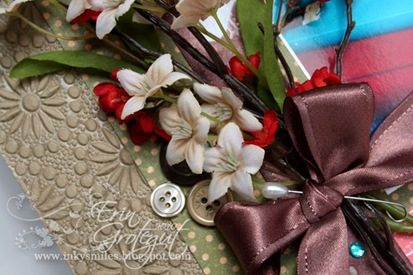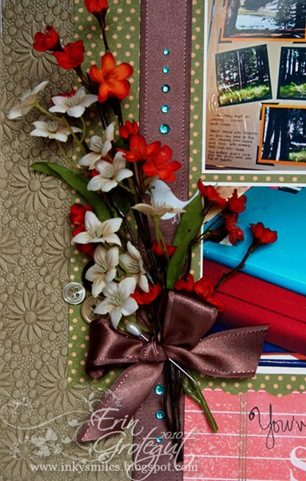 I go home from Creative University today… Can't wait to share the photos and fun stories and artwork!!
~Inky Smiles!
Supply List:
* I used a variety of odds n ends papers that I had on my desk. I had already cut off the manufacturers labeling… sowwy…. The embossed paper on the left hand side is a VERY old "India" paper from Provo Craft.  I LOVE that stuff. 
* Buttons came from my dresser… you know those extra buttons you get with new clothes? Yup… found  a way to use them and now I hope that I never lose a button from my fav shirts.
* Ribbon – STampin Up,  Rhinestones – Kaisercraft, Flowers – Michael's floral department, Birdie Rub-on – American Crafts