Follow Up to Bling, Jiggle, Bling, Bling: More Bling
Follow Up to Bling, Jiggle, Bling, Bling: More Bling
I know I said I would show you more Bling a long time ago. I'm just now getting around to it. I've been working on things around my house (hello life), SSD projects, my CU roomie gifts and packaging up the charms I showed you previously and getting things ready to go to Creative University in a couple of weeks. OH I also made a fun PAPER scrapbook layout that I can't show you until after CU as well. I'm entering one of the art contests with it… can't share just yet. tee hee. I know, I'm awful!
I can't show u the roomie gifts yet, but I will schedule a post for while I am gone so that the roomies don't see them ahead of time. 🙂
In the meantime, here's a little of what I've been working on:
These charms were SUPER fun to make and I needed a cute way to "present them" cuz you know, it's all about the packaging, right? haha! Anyway… I didn't want to spend hours and hours cutting and glueing so I created these little cards in PSE 7, printed them out on super heavy weight card stock (base weight from Gina K Designs). I poked holes with my paper piercer and strung some 24 gauge wire thru the holes to attach the charms. Worked like a charm, pardon the pun. I think I need to work on my printer colors/calibration or something because that ribbon is supposed to be a rich chocolately brown, not almost black.
Well now that we've got some charms we're gonna need something to attach them to…. At least, that's what I thought as I created some for myself. I didn't have a "blank" charm bracelet so I figured I'd make one for myself.
Here's what I came up with: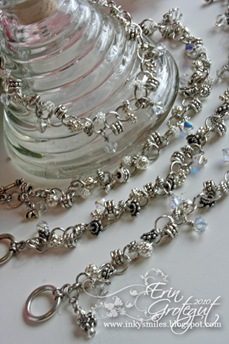 These bracelets are full of all sorts of silver colored (not sterling silver) jingle bling jingley bits and baubles. I've sold several to some CU attendees and will be offering them in my Etsy shop once I decide on a name and finish setting it up.
The bracelets are made in 7", 7.5", and 8" lengths and they can be custom fit as well. Each bracelet has at least 7 clear Swarovsky crystals (2 different types) on it. They are finished off with a giant decorative toggle attached to the bracelet with 2 jump rings for security and a dangling charm that coordinates with the bling on the bracelet. They can be worn alone or with charms attached. No two are exactly alike. 🙂
I have two that I wear a lot. One has charms on it and one is simple , as it is.
Hope you're having a bling, jingle, bling, bling day!
~Inky Smiles