From Couch to 500….
From Couch to 500….
*Warning* LOADS of Photos…
This summer I have focused on my health… a big part of why I have partially "abandoned" this blog.   In February I was diagnosed with severe sleep apnea and ridiculously (near dead) low levels of oxygen in my blood stream… (The last two years of my life have been a crazy medical mess.)  The doctor put me on a CPAP machine and oxygen at night and they have literally
CHANGED.MY.LIFE
In the first week of May I dusted off my bike and went for a ride with Brent.  I just wanted to go around the block.  At the time that was an enormous feat for me.  So Brent and I rode our bikes… and I got to the top of the street and kept going.  And then we rode up to the mouth of Payson Canyon… which was about 3 miles… and IT DIDN'T KILL ME!  So we kept going for another 2.5 miles for a total of 5.5 miles on my first real ride… I wasn't dead and it felt GREAT.
And then a few days later some wonderful friends invited me to go riding with them…  Here we are on our first group ride.
 
And our second or third-ish group ride.  The group always varied… people came when they could. Sometimes we rode with just a couple of us…


But we always rode somewhere beautiful.  Where I live there is always beauty to be seen on an adventure!

We pedaled on paved roads and dirt paths…
We had lots of laughs… and a few accidents…. Suzi went over a curb and lost a handlebar….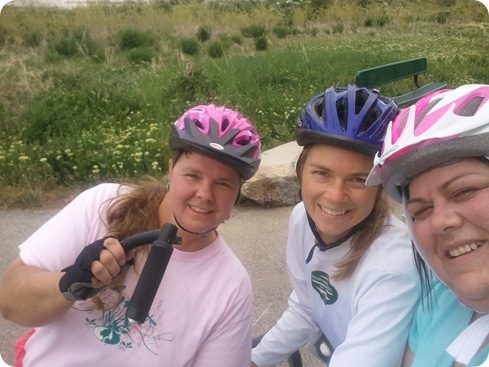 A highlight of one of our routes was to stop and see the new babies at the Arabian ranch…
We braved riding along the busy state highway…

An d enjoyed loooooong country roads…..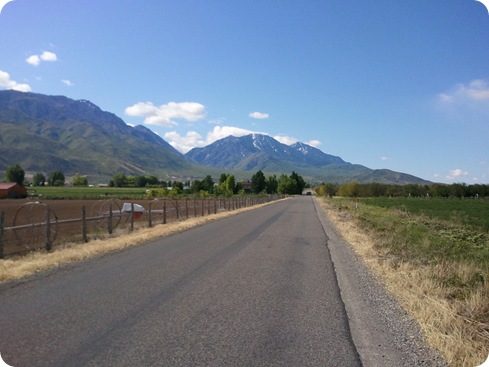 Brent and I even took our bikes on a vacation to see my family in Iowa… We rode over 50 miles that week! 🙂 One of our rides was 15 miles!
 
Iowa has some amazing bike paths on the greenbelts…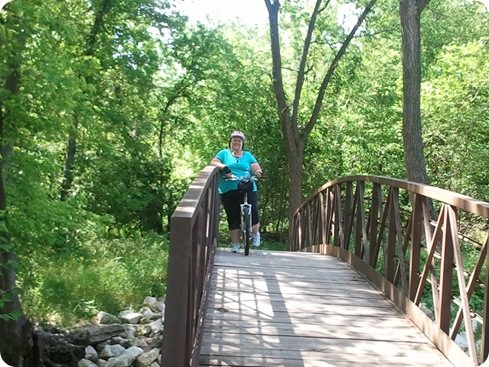 We even got to stop and see horses on our Iowa rides… (with Mom and Brent on the 15 miler)
One day my sis came and visited and we went on a spin around the neighborhood with the kids… and then did a 10 miler.
When we got back to Utah I felt energized and inspired… so B and I had a crazy notion and went on a LOOOOONG ride…..
… out in the country…. from one side of the valley to the other… and around a mountain…
… UP this big honkin hill… it's not that steep… but it's a loooong, loooong uphill road.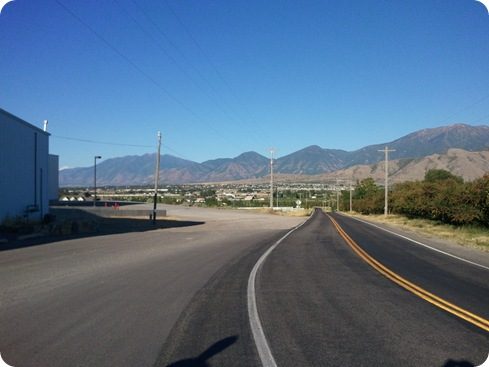 And all along the canal….
The ride was my longest ride to date… 20.2 miles.  It took us 3 hours (with 20 min break when I passed out on the grass at a church in Santaquin) to go the distance.  I had the worst case of jelly legs EVER.
And back to riding with the girls… here's me and Natalie at the end of a ride.
And me with Tonja and JoAn… the instigators of the riding group 🙂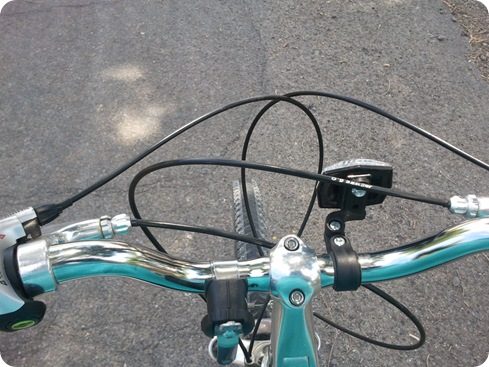 Sometimes our rides took us past some craaaazy sights… This is a fountain  in someone's front yard on the Salem Canal Road…
 
But mostly we rode surrounded by amazing views and beauty…

And one evening Brent and I rode with some friends in Salt Lake… along the Jordan River Parkway trail… gorgeousness!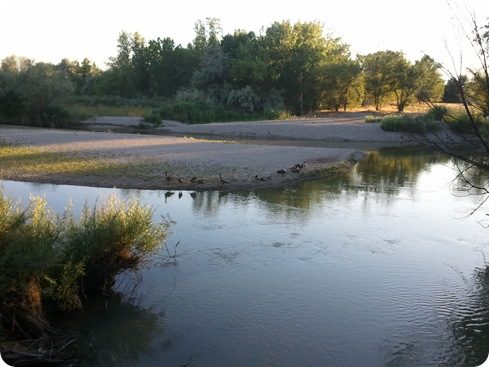 Sometimes, because of crazy schedules, I went riding alone… Good times to think, talk with God, and enjoy the ride…

Sometimes I would stop and talk to the "wild life"… like these brand new babies…
Somewhere along the line a few of us started swimming at 6 am… (Yes, we were nuts, but it sure started feeling GREAT!)
 
In September my mom came out to help me get started packing up my house to move to Colorado… She came on a few rides with us…
In late May I decided to set a goal…. I wanted to ride 500 miles by the end of September.  I was averaging 6-10 miles per day and was going great… and then I had a few set backs… I got sick with some awful flu bug.  And then I blew out my knee again (it's a constant occurrence)… and then we had horrid smoke in the valleys for days and days on end…
But with the support of some amazing friends and a totally AWESOME husband, I pedaled on.
And on….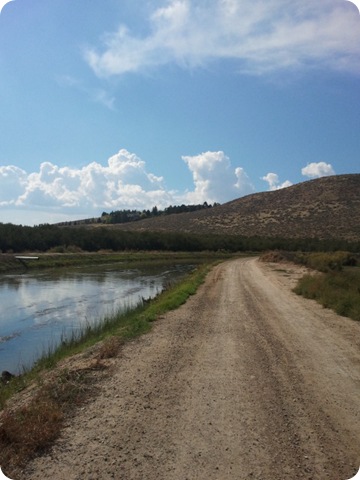 Until this Sunday… September 30th.  Brent and I have been sick with colds… It feels like I have one lung that works… lol… but we got on our bikes and went for the last ride of the goal time frame… We went my favorite route… along the Highline Canal Road and out through the orchards… Brent set his GPS .. I had 6.56 miles left to go to reach my goal.
 
My one good lung was having some serious stress… and I got a pretty good sunburn… and I wanted to get off my bike and lay down in the grass, but it was just gravel or road so we kept on pedaling.
And I reached my goal!!!  I DID IT!  Halfway up the free way over pass the GPS read 6.56 miles.  I whooped and hollered and even cried some tears of joy.
And I got off the bike right there in the middle of the freeway overpass and pulled out the sign I had made for when I would SOMEDAY hit that 500 miles. When we got home the GPS read 9.21 miles… 2.65 more than my original goal!
 
I'm wearing the pants I started riding in… they were pretty snug when I started and now they are crazy baggy and they are now a reddish black.. faded by riding in the hot Utah sun.  That's ok.  They have lived a good life 🙂
So there you have it!  The craziest physical fitness goal I have set for myself in well, most of my adult life.  From couch to 502.65 miles in a few short months… 502.65 miles gained, 38 lbs and several inches lost and more to go!
~ Inky Smiles!