It's All About Numbers…. A Guessing Game
It's All About Numbers…. A Guessing Game
Well, we're making a HUGE DENT in the house projects and this means I am that much closer to getting back to paper crafting, which I am MISSING IMMENSELY!!! The walls in the basement are patched and drying. The carpet has been re-stretched in the family room and some of the office furniture has been moved from upstairs back down into the family room. (We still have to put the baseboard trim back up, but it was 11 pm when we'd finished stretching the carpet and couldn't run the air compressor.) We need to finish repairing the walls and retexture them and then PAINT… and then we'll work on replacing the flooring down there and hopefully soon we can be back to normal!
The tile is done in the kitchen and the front bathroom is started, YA
Y! We spent the weekend pushing ourselves hard to get the old flooring ripped out (along with 8 zillion staples from the old subfloor under the vinyl) and hauled to the dump, then we spent a full day prepping and laying down a new Hardibacker subfloor and two days laying out and setting the tile. We're beat! Our furry little supervisor didn't even break a sweat! Must be nice!!
Our wood flooring that was supposed to be here the first week of August is going to be here TOMORROW… sometime tomorrow. We're three weeks not ready for it.. YIKES! Talk about some EXCELLENT customer service! We bought the flooring from www.FloorOne.com and so far we've had a good experience. I'll let you know the final results once the flooring actually shows up.


So, this brings me to the Guessing Game….. I was at the Provo Craft Outlet Store in Orem after work one day last week and picked up a couple of fun things to give away. I picked up some ArtAccentz glitter/mini beads/microbeads by Provo Craft & some "ready to bling out" double sided stickers by Making Memories and I had some packs of American Crafts Velvet Thickers on hand… fun, fun, fun!!
AND……. HOLY MOLY BATMAN! I logged on to write this post and this is what I saw… check out the lower right hand side… THANK YOU READERS & FRIENDS! WOWZA!!!!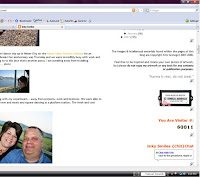 Now back to our regular programming….
Here's how you can take a chance at winning….. I will choose the winners on Wednesday night after we've had some time to recover from the chaos….
Leave a comment on this post with your guesses for the following questions:
1.) What time will the wood flooring arrive?
2.) How much does my shipment of wood flooring weigh (US pounds)?
I have two prizes to give…
This one goes to the person who guesses the closest TIME:
This one goes to the person who guesses the closest WEIGHT: