It's Beginning To Look A Lot Like Christmas….
It's Beginning To Look A Lot Like Christmas….
It's beginning to look a lot like Christmas around here!  We got our first real teeny bit of sticking snow this past weekend and while parts of Utah more north than us got hit hard last night we got only maybe 3"more… YAY!  I guess it is FINALLY time to put away the flip flops and capris and pull out the warm fuzzy slippers and polar bear jammies.
I am SO excited for Christmas this year. I have no clue what I am giving Brent yet, but I have other family members taken care of. WOOT!  On Saturday we put the outside lights on the house and hung the giant wreath on the peak of the house.  I have already packed away my fall decor and set up our new huge Nativity set on the hutch in the front room and we're going to be putting up our inside Christmas decor on Wednesday.
I've been dreaming of a mini Christmas tree in my studio for a while now… well, ever since I saw this fabulous PINK "feather" tree at our new Hobby Lobby in Orem (25 or so miles north of me).  I didn't buy it right away because I figured it would go on sale (and I don't pay full retail for much of anything)… well a few weeks later it still wasn't on sale so I printed a 40% off coupon and went in to buy it.  Thankfully some of the ornaments WERE on sale so I was able to pick some of those up, too.
The tree came stuck in a boring little hot pink wooden square… but I changed that when the ugly Urn Vase Thingy got a makeover.  I pulled the hot pink wooden square off the tree and then plunked that tree into its new home and hot glued some silver metal garland from Ikea in the base of the tree to cover the leftover Spanish moss that was stuck on.
 
Glue, Wrap, Press (use something other than fingers to avoid burns, don't ask me how I know this… )
The clear garland that picked up for the tree just looked too tiny and disappeared into the tree when I put it on it at home so while Stacey was doing this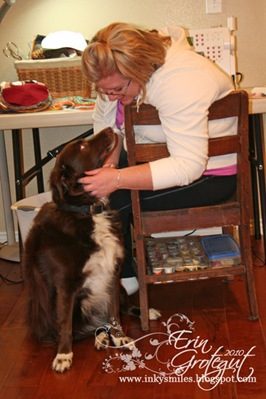 I opened up my box of jewelry making goodies and started making some custom beaded garland.  I figured 10' of hand beaded garland would have been plenty for such a small tree.
HA
HA HA
Try 18ish feet for a 30" tree. LOL! Good thing I had a lot of seed beads and plenty of time on my hands the next evening.  I added to this garland and about doubled the length, I just wished I'd spaced the big beads a little closer together.
Once I got the right length of beaded garland I started putting the ornaments from Ikea and Hobby Lobby on.  It was missing something so the next evening I went to Roberts Crafts and picked up some supplies to make some feather birdies (which I will have a tutorial on HERE after Thanksgiving – it's all typed up and ready to go)…  I topped the tree off with a "gemmed star" from Hobby Lobby.   Then it was still missing something so I popped some flowers off of the stash of silk flowers I keep here in the studio for just such occasions, grouped them in threes, and backed them with gathered pink tulle.
I am loving how my little studio tree turned out!  It was worth the hot glue blisters, squint eye from stringing seed beads, and a contact high from spray lacquer….  The creative process making this simple little tree was loads of fun and adds a cheerful Christmas spirit to my studio.
I hope you all have a marvelously happy Thanksgiving and I will see you back here later this weekend with a tutorial on making shabby chic feather birdies!
Inky Smiles & Happy Thanksgiving!
PS…  The wire form that previously occupied this little corner has found a new home for the holidays…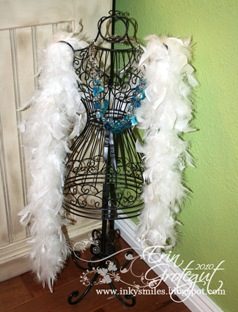 Linking to: