My Life's Journey – A Mini Album
My Life's Journey – A Mini Album
Wow, I've been gone quite some time from the blog.  No excuses, just busy living life.  Those of you who are facebook friends have seen what I've been up to.  (I hope to post about my adventures here in the next little while.)
At the beginning of August I attended a class by my friend, the fabulous Sue Neal.. I just LOVE Sue's classes!  I don't make it to every one of them but try to go when I can and I ALWAYS get a boost of creative mojo from her.  This last class – "My Life's Journey" mini album was no exception.  Talk about a fabulous project!!
Here's the link to Sue's blog & the original class project:
Most of my friends know that I am not usually one to follow the rules exactly… I usually veer off the path and wander…  At this class I MOSTLY followed Sue's beautiful example. Well, I pretty much did, but then got home and didn't have all the exact same supplies and didn't want to go shopping to hunt down the few items I needed to complete my project.  All of the materials were provided, but I didn't have the right color copics and my bottle of loverly homemade glimmer mist kerplunked on my kitchen tile floor and shattered from here to breakfast… (which is why you see some different whitish glimmer spray.. need to make some new brown glimmer and fix that)… and well.. yah, you get the picture.
SO… like I said, I pretty much followed what I was SUPPOSED to do and added a few little bits and baubles to personalize it for me…  I did not purchase anything extra to complete the inner pages.. I used what was provided (there were lots of extra cool bits of embellishment pieces) and I stretched out what was provided.  I think the only thing I added from my stash were a couple of strips of paper (from the same line) for pockets and something else.. but 97-98% of the finished project was provided in the original kit. I still need to add the date tag to the front and lots of photos and then do the thinking part and write about my life…
I've been such a slacker about my blog… I get frustrated with the amount of time it takes to 1) create a project and then 2) take photos and then 3) edit said photos and 4) write a blog post and upload photos…. (mainly why I haven't blogged in so stinkin' long)… soooo… these photos are not staged all pretty… I snapped, did a basic edit (resize and watermark) and I'm tossing them up here on the web….
Cover:
First pages: Family History and Birth.   The left page pulls out a mini accordian family history record.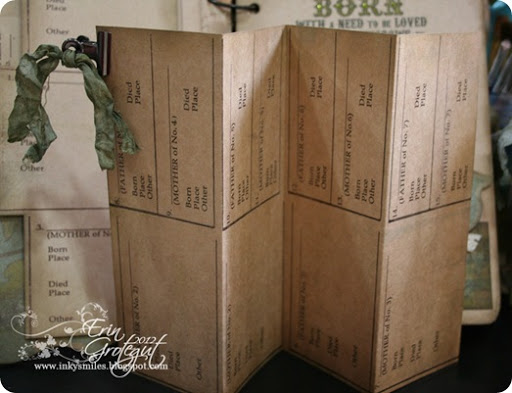 I love the banner… I thought every birthday needs a sparkly banner.  I added the lime green Stickles glitter to it and decided the glitter had to be a theme throughout the book… I think I was born with glitter in my hair 🙂
Childhood & Teenager Pages.
Family & Learning Pages
Love & Home pages
Effort & You pages
That is supposed to say QUIRK.. I wish it said quirkY, but… I guess that's just me… a little bit of an odd ball 🙂
Work & Friends
Last page
I just LOVE all the fabulous quotes and journaling prompts that Sue put in this mini album.  They are fun, they are thought provoking, they are excellent 🙂
I hope you enjoyed a peek at this as much as I enjoyed making it!
Inky Smiles!
E.