So I've had this hankering for the past several weeks to SEW something.. something other than paper…. Poor Bernie (my Bernina Activa 240) has been staring at me from where she's been sitting on the floor in my studio and I swear if she had puppy eyes, she'd have been using them… LOL!  ANyway.. yesterday I was perusing the internet and came across a fun little project on the Fiskars website.  Oooh La La!  I found me a project.. and then another… and then another…. but those anothers will have to wait.  Project #1 was about to be created.
I shared this little sneak peek yesterday on Facebook. (So much easier and faster than blogging!)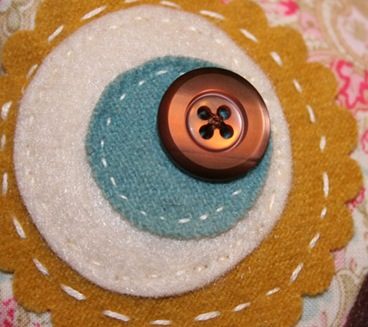 Miss Stacey Flores texted me cuz I texted her the sneak peek and she already knew what it was… "Cuz I'm smart like that" she said.. and "Cuz I'm addicted to ____ and ____ right now". LOL!  Crazy woman!

The hardest thing about this little project was the time consuming stitching of the eyes…  round and round and round and round…. 🙂
I just love the eyes… I think that's what drew me to the original Fiskars project. 
They just pop out at ya… literally, lol!
Introducing… well I haven't decided on a name for her just yet… but I'm thinking Olivia or Ellie, maybe even Sally… what do you think?  She's a wise ol' girl… I think I will keep her around the studio!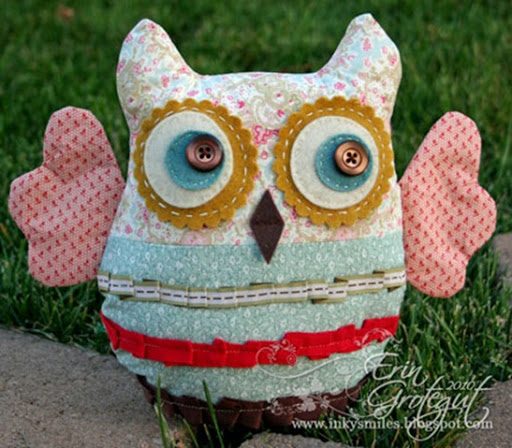 She's made with some scrap fabric I had in my scrap basket and the felt is real wool felt from my "penny rug" supply box.  I used bits of scrap ribbon to create her ruffly front.  All of the fabric is lined with lightweight pellon for stability (and ease of sewing) and the wings have an additional layer of polyester felt to give them some structure.  The pellon and felt were not in the original instructions.
Bottoms up!  I stitched my initials on her bum… remember Cabbage Patch dolls?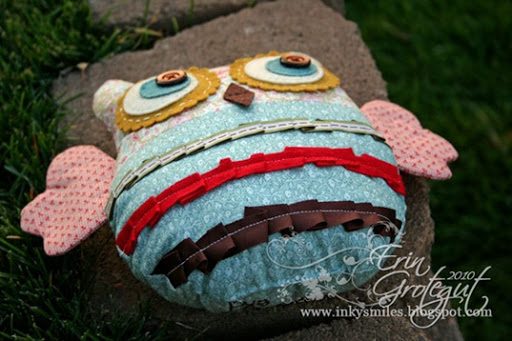 Thanks for popping in today!  I'm off now to help Brent make another batch of Roasted Red Pepper Spread so we can bottle it up tomorrow. (It's dang good schtuff, maynard!)
~Inky Smiles!
Erin