Yellowstone: Grand Prismatic Pool Area & Candy Winner
Yellowstone: Grand Prismatic Pool Area & Candy Winner
I just woke up from a Sunday afternoon nap and remembered I needed to post about the Where In The World photo guessing contest and a blog candy winner…
Here's the photo again:
There were several guesses and you are all right.. it was taken in Yellowstone National Park and that is the Firehole River.  This photo is looking back towards the Upper Geyser Basin (which is where you would find the Old Faithful area).  If you turn to the right you will see this fine view with some lovely thermal feature activity:
And if you keep on turning, looking back towards the Grand Prismatic Pool area….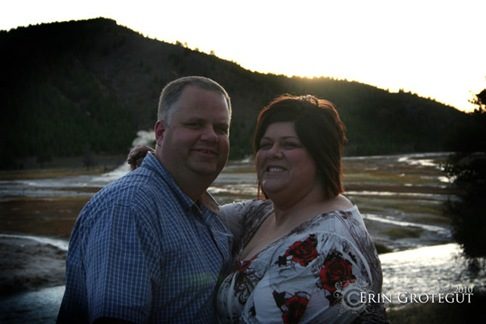 Oh wait, oops… your lovely hosts of this little tour decided to try to take a self portrait with the camera remote… lol! Mush, mush, mush….
And we're turning, we're turning…..
And voila! We have the Grand Prismastic Pool area… the big steamy area on the top left is the Grand Prismatic Pool… which looks like this photo that I snatched from somewhere online because I'm too lazy to hike up to the top of that big mountain in the back to get a clear view of it… the photos I have of Grand Prismatic are just steamy shots of the algae and side shots of the pool.  It's difficult to snap a good photo in the chilly evening with all that steam.
And coming back to where we are standing we find a pic of my sweet hottie hubs… I was trying to make it look like the steam was coming from his hot hand… tee hee! I don't think he was all that thrilled, but he appeased me nonetheless.. LOVE HIM 🙂
And now since you've read through this post and gotten this far, I should probably tell you who the winner is…. (drum roll, please)…..  Random Integer Generator online determined that our winner is commenter #1
KELLY JO!!
Shoot me an email with your mailing addy and I will pop these delicious goodies in the mail to you.  Pictured here are some pearls from Kaisercraft, some velvet flowers, chipboard crazy arrows, chipboard buttons,  3 sheets of rubons and some ribbon slides from Maya Road, and some fuzzy grey Thickers from American Crafts.
No husbands or thermal features were harmed during this photo shoot.  Buffalo chips, on the other hand, are another story.
~Inky Smiles!